The MTA is proud to report that out of the 520 plus apprentices currently employed, ZERO are off work due to a workplace injury, a fantastic achievement to share with hosts and members. This outstanding result demonstrates our commitment to the safety of apprentices and the hard work of our WHS team.
For the period 01/04/2019 to 30/06/2019 YTD, there have been (23) WHS workplace incidents recorded at the MTA. The graph below shows that hands and face or head are the highest risk of bodily injuries for MTA apprentices, with a laceration to a right arm the only short term lost time injury recorded to date.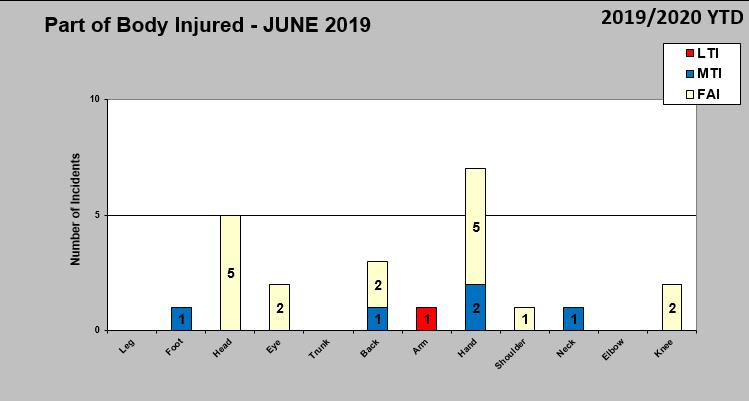 (LTI = LOST TIME INJURY, MTI = MEDICAL TREATMENT INJURY I FAI = FIRST AID INCIDENT)

There is no doubt that "Early Intervention" continues to play a significant part in MTA apprentices achieving an rapid return back to work after a WHS incident at work. Some of the early intervention strategies that we have in place to assist apprentices and host employers are:

WHS & RTW Apprentice Inductions
Early Incident Reporting to Service Managers
Early Medical & First Aid Treatment Onsite & Medical Centre Attendance
Reporting All Incidents to the MTA's WHS&RTW Coordinator within 24hrs
Immediate Suitable Duties provided by Host Employers
The MTA's "WorkSafe LiveSafe" Promotional Drive
The MTA is always focussed on safety in the workplace, whether its hazard identification or early return to work and rehabilitation following an injury.
Work in the automotive industry is strenuous and even when a workshop has the highest safety standards, accidents can still occur. It is well documented that early intervention of workplace incidents result in an early return back to work.
The MTA works with a number of people to get apprentices back into the workplace after an injury.
If you require any assistance in Return to Work, please contact Cos Lamberto WHS&RTW Coordinator on (08) 8440 2628 or by clicking here.