MTA CUSTOMER PROMISE
The sign of an automotive professional, all MTA SA/NT Members commit to the following customer promise: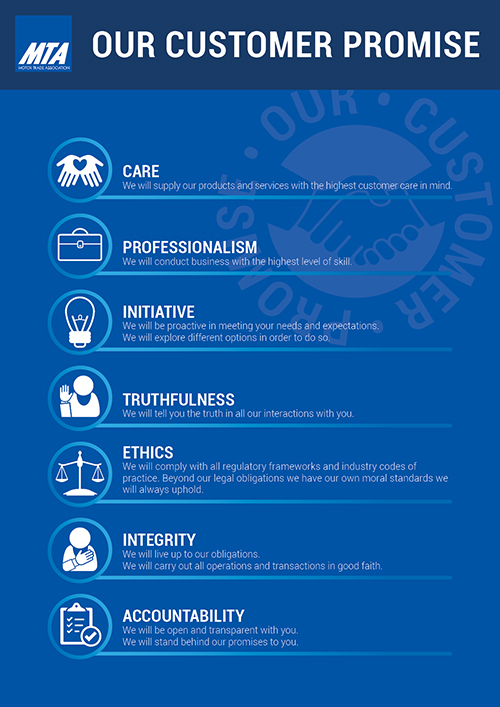 Care
We will supply our products and services with the highest customer care in mind.
Professionalism
We will conduct business with the highest level of skill.
Initiative
We will be proactive in meeting your needs and expectations. We will explore different options in order to do so.
Truthfulness
We will tell you the truth in all of our interactions with you.
Ethics

We will comply with all regulatory frameworks and industry codes of practice. Beyond our legal obligations we have our own moral standards we will always uphold.
Integrity
We will live up to our obligations. We will carry out all operations and transactions in good faith.
Accountability
We will be open and transparent with you. We will stand behind our promises to you.
"Your MTA customer promise certificate is the clearest demonstration to current and future customers that you abide by a strict industry code of conduct that values them."
Paul Unerkov - MTA SA/NT CEO

Click here for MTA's member requirements under the Code of Conduct.

TO JOIN THE MTA SA/NT TODAY:
Apply Online
Call 8291 2000
Email yourmta@mtasant.com.au