The Motor Trade Association of SA/NT is the State's peak employer organisation for the automotive retail, service and repair industry representing the interests of over 1,200 members in South Australia and the Northern Territory.
The MTA SA/NT prides itself on an organisational culture that encourages the growth and development of talented people so we can continue to provide the highest quality service to our members.
This culture is built on our shared understanding of our values below: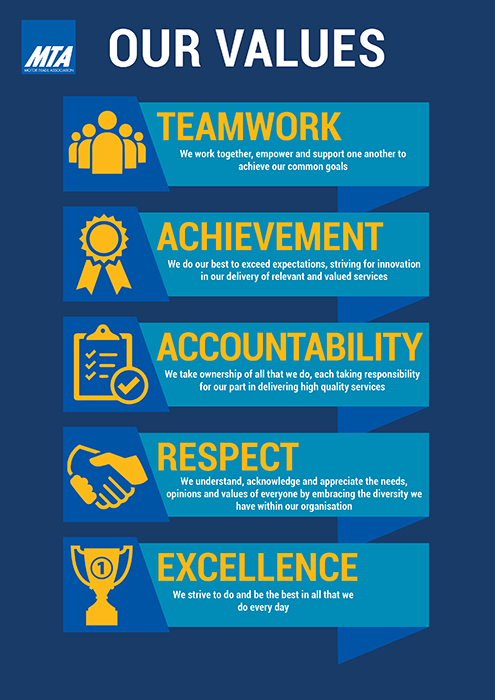 The automotive retail, service and repair industry is one of the most exciting and innovative industry sectors in the world today and the MTA SA/NT plays an active role in ensuring our members are well placed to benefit from this. Our Group Training Scheme is also the peak training and employment organisation for the automotive retail, service and repair industry, employing over 500 apprentices and trainees in South Australia.

If you are a person who shares our values and is enthusiastic about protecting and growing the automotive industry then please consider the following opportunities:
MARKETING AND COMMUNICATIONS SPECIALIST
Do you want to develop your marketing career in a booming industry, supported by a dedicated and enthusiastic team? In this role you will assist in the growth of apprentice skills (RTO) and employment (GTO) through implementing and monitoring marketing initiatives based on customer insights, analytics and research.
MEMBERSHIP DEVELOPMENT SPECIALIST
As an active member of the Membership and Divisional Team, you will be responsible for bringing automotive businesses into the MTA membership family. With time spent predominantly visiting prospects across South Australia, this role will attract a proactive, responsible and engaging individual with previous sales experience who is comfortable on the road and is adept at building relationships.

APPRENTICE RECRUITMENT COORDINATOR
This role is responsible for coordinating the recruitment of apprentices to ensure yearly intake targets are met. With a focus also on quality, this is an opportunity to identify candidates to commence their careers in the automotive industry who will be successful in their chosen trade. As the majority of applicants are young people, strong interpersonal skills and the ability to relate to youth are essential.
APPLICATIONS SUPPORT
We are currently seeking 'super-user' to join our IT team. This individual will provide system level support of multi-user operations applications/systems and software tools, including configuration, maintenance and support of these systems. This is a hands-on role with a blend of application support responsibilities across several business units, with a strong focus on problem-solving and innovation.
REGIONAL AUTOMOTIVE TRAINER/ASSESSOR - HEAVY VEHICLE (HV)
We are looking for a motivated individual with a passion for mentoring to join our Registered Training Organisation (RTO) in early 2022. To fit into our regional team, you must be a qualified Heavy Vehicle Mechanic with experience in buses, trucks, earth moving equipment, tractors, and other forms of agricultural machinery and mobile plants together with experience across Light vehicle.
AUTOMOTIVE TRAINERS/ASSESSORS
Do you want to impart your knowledge onto the next generation? Join SA's largest automotive training organisation and find your purpose shaping the future of our industry. In this role, you will be responsible for the training and assessment of automotive apprentices and trainees in your chosen field, ensuring the quality and compliance of their work meets our high standards.
Automotive Apprenticeships are available here.