The Motor Trade Association of SA/NT is the State's peak employer organisation for the automotive retail, service and repair industry representing the interests of over 1,200 members in South Australia and the Northern Territory.
The MTA SA/NT prides itself on an organisational culture that encourages the growth and development of talented people so we can continue to provide the highest quality service to our members.
This culture is built on our shared understanding of our values below: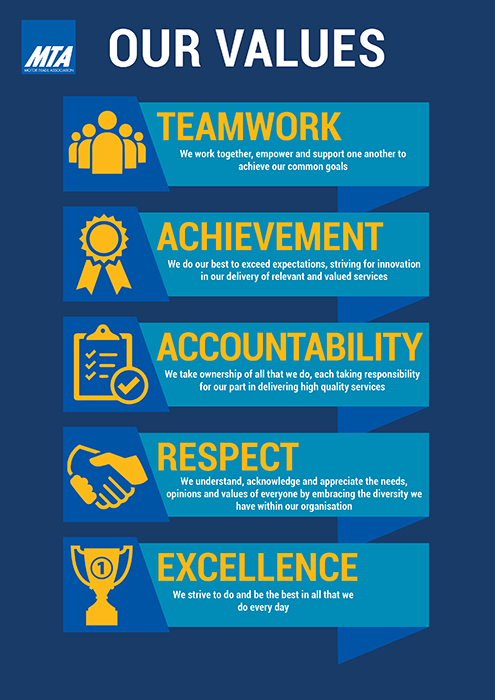 The automotive retail, service and repair industry is one of the most exciting and innovative industry sectors in the world today and the MTA SA/NT plays an active role in ensuring our members are well placed to benefit from this. Our Group Training Scheme is also the peak training and employment organisation for the automotive retail, service and repair industry, employing over 500 apprentices and trainees in South Australia.

If you are a person who shares our values and is enthusiastic about protecting and growing the automotive industry then please consider the following opportunities:
AUTOMOTIVE TRAINER ASSESSOR - HEAVY VEHICLE
We are seeking a qualified tradesperson with current automotive industry knowledge and experience in heavy vehicle mechanical technology to deliver compliant and industry-led training and assessment services, whilst cultivating an inclusive and supportive learning environment for MTA learners.
WORKPLACE RELATIONS ADVISOR
An exciting opportunity has arisen for the appointment of a Workplace Relations Advisor to assist in the provision and coordination of core industrial, human resource and WHS services to members within the automotive industry. This role is within a small team of industrial and WHS professionals and reports to the Workplace Relations Manager.
GRADUATE (LAW) WORKPLACE RELATIONS ADVISOR
Are you a recent law graduate looking for a challenging first step in your career? As part of a small but highly specialised group within the broader Member Services group you will work with experienced, energetic and driven colleagues to support retail automotive businesses.
MARKETING & MEMBERSHIP COORDINATOR (TRAINEE)
An exciting and immediate opportunity for a Marketing and Membership Coordinator to join the Membership Solutions team has arisen in a newly created role. his role is perfectly suited to a recent marketing graduate ready to jump into a full-time position and wishing to extend their knowledge through a 12 month paid Traineeship program.
TRAINING AND EMPLOYMENT FIELD OFFICER (APPRENTICES & HOSTS)
Are you seeking a new opportunity working with businesses and apprentices in a thriving industry? If you enjoy building relationships, primarily working 'on the road', and are exceptional at managing your work, this is the role for you.
Automotive Apprenticeships are available here.