The Motor Trade Association of SA/NT is the State's peak employer organisation for the automotive retail, service and repair industry representing the interests of over 1,200 members in South Australia and the Northern Territory.
The MTA SA/NT prides itself on an organisational culture that encourages the growth and development of talented people so we can continue to provide the highest quality service to our members.
This culture is built on our shared understanding of our values below: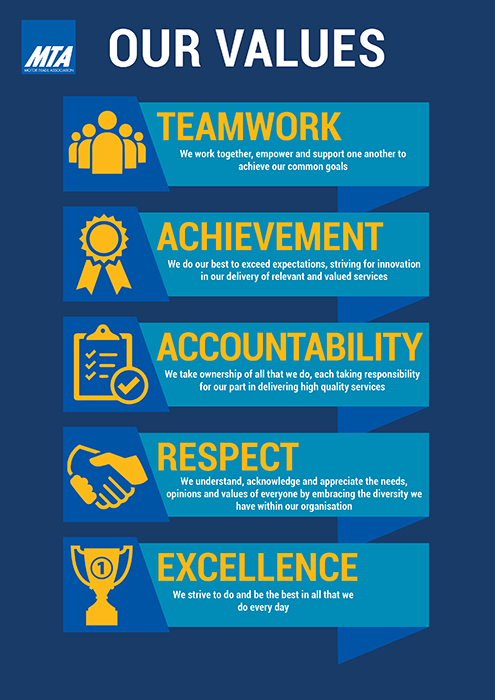 The automotive retail, service and repair industry is one of the most exciting and innovative industry sectors in the world today and the MTA SA/NT plays an active role in ensuring our members are well placed to benefit from this. Our Group Training Scheme is also the peak training and employment organisation for the automotive retail, service and repair industry, employing over 500 apprentices and trainees in South Australia.

If you are a person who shares our values and is enthusiastic about protecting and growing the automotive industry then please consider the following opportunities:
MARKETING SPECIALIST – SKILLS AND CAREERS
Do you want to develop your marketing career in a booming industry, supported by a dedicated and enthusiastic team? In this role you will assist in the growth of apprentice skills (RTO) and employment (GTO) through implementing and monitoring marketing initiatives based on customer insights, analytics and research.
AUTOMOTIVE TRAINERS/ASSESSORS
Do you want to impart your knowledge onto the next generation? Join SA's largest automotive training organisation and find your purpose shaping the future of our industry. In this role, you will be responsible for the training and assessment of automotive apprentices and trainees in your chosen field, ensuring the quality and compliance of their work meets our high standards.
CUSTOMER SERVICE OFFICER
We are seeking motivated and enthusiastic people who are highly experienced in providing excellent customer service and administration support to join our Registered Training Organisation (RTO) Team at Royal Park.
RECEPTIONIST/ADMINISTRATION ASSISTANT
Do you love the variety and challenge of juggling reception and administration tasks? Do you enjoy providing excellent customer service? Are you seeking a permanent role working in a friendly, professional office? We are seeking an experienced and motivated Receptionist / Administration Assistant to provide reception and administrative support at our Wayville office.
Automotive Apprenticeships are available here.