The Motor Trade Association of SA/NT is the State's peak employer organisation for the automotive retail, service and repair industry representing the interests of over 1,200 members in South Australia and the Northern Territory.
The MTA SA/NT prides itself on an organisational culture that encourages the growth and development of talented people so we can continue to provide the highest quality service to our members.
This culture is built on our shared understanding of our values below: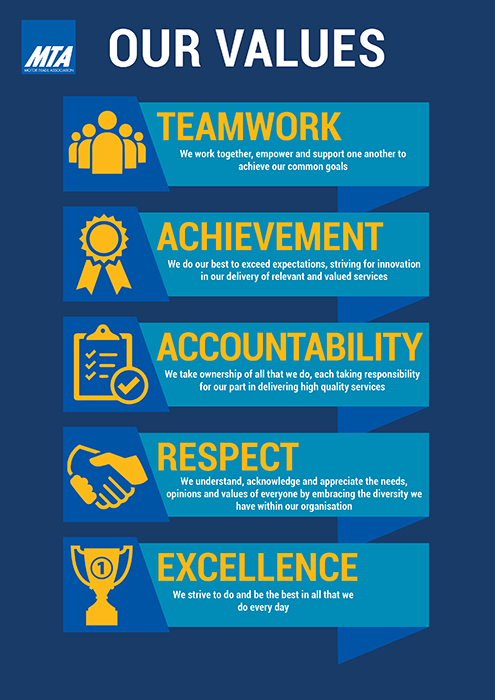 The automotive retail, service and repair industry is one of the most exciting and innovative industry sectors in the world today and the MTA SA/NT plays an active role in ensuring our members are well placed to benefit from this. Our Group Training Scheme is also the peak training and employment organisation for the automotive retail, service and repair industry, employing over 500 apprentices and trainees in South Australia.


If you are a person who shares our values and is enthusiastic about protecting and growing the automotive industry then please consider the following opportunities:
RTO Training Scheduler

A unique opportunity exists for an experienced RTO Training Scheduler. Reporting to the General Manager Training and Employment Centre, the successful applicant will implement all apprentice training scheduling in our recently acquired VETtrak system, ensuring that legislative and compliance requirements are met. This role will also be responsible for the ongoing scheduling of apprentice training.
For further information and to apply, please visit Entree Recruitment www.entree.com.au/job/rto-training-scheduler/

Automotive Training /Assessors - Paint

Are you looking for a new challenge and opportunity?
Do you have a passion for sharing your knowledge with young people?
Would you like to work in a state-of-the-art training facility?

We are offering a new opportunity for a highly motivated person to join our dedicated team to deliver high quality training. This roles will be responsible for the training and assessment of automotive apprentices and trainees, ensuring quality, compliance and outstanding service.
Opportunities are available on site, regionally, in schools and within industry environments.

If you would like to discuss the role further please contact Emma Flenley, Human Resources Manager on 8241 0522.

For advertisement details of the opportunity click here
To apply click here



Automotive Apprenticeships are available here.