The MTA has been achieving fantastic results in relation to safety but there is work still to be done ensuring that apprentices remain safe in the workplace.
From April 2018 to the end of March 2019, the MTA achieved a 57 per cent reduction in reported workers compensation claims in comparison the previous year. After analysing the data, we have attributed to the great results to our safety management systems. In the 2017 to 2018 MTA financial year, the number of claims were 35. In the 2018 to 2019 MTA financial year, the number of claims were just 15.
While the number of injuries requiring on site first aid has increased by 36 per cent in the same time periods, from 50 in the 2017 to 2018 financial year to 78 in the 2018 to 2019 financial year, none of these injuries resulted in a workers compensation claim, reinforcing that our early intervention strategy in the work place is contributing to lower lost time and workers compensation claims.
Most injuries happen to first year and second year apprentices. While this will not be surprising to many, it does present a challenge in reinforcing the message of safety to younger apprentices who are still finding their way around an automotive workshop and reinforcing the message of safety.
In an effort to reduce the number of injuries sustained in the workplace, the MTA will be launching its Work Safe, Live Safe initiative. We are encouraging apprentices, trainers and hosts to take the message seriously and the need to be diligent, ensuring we are all safe in the workplace.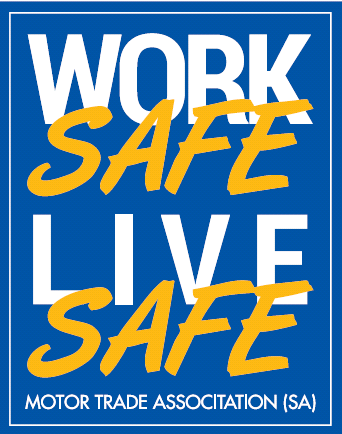 Apprentices will start to see the above sign around our Training Centres, on social media and e-communications such as emails, to reinforce the message of safety. MTA Trainers and Field Officers will also be reinforcing this safety initiative with apprentices, that all tasks must be done safely and to pay attention to the jobs at hand, as well as being aware of their surroundings and work habits.
We encourage you to get behind this new initiative and ensure that apprentices work safe and go home safe at the end of the day.
There are ways that you can reinforce the message of safety in your own workplace by conducting regular toolbox meetings. Click here for a refresher from our Workplace Relations (WR) team on what these meetings should entail.
Having regular Observation Tours identifies any safety issues and hazards in relation to your workplace. Click here for a refresher from WR on how you can effectively implement an Observation Tour in your own workplace.
If you have any questions in relation to apprentice safety or have any return to work issues, click here to contact our WHS and RTW Coordinator, Cos Lamberto.