In recognition of International Women's Day on 8 March, it is timely to look at the direction the automotive industry is taking regarding its acceptance of women into the fold.
It's no secret that the automotive industry has been male-dominated since its genesis.
However, in the past 30 years or so, there has been a noticeable shift in the workforce demographic, with the ratio of women very gradually beginning to level.
Even though there is still a way to go before this ratio equals out, the women already in the automotive industry are creating invaluable headway, paving the road to success for future generations of women.
Many of the MTA's member businesses today have women at the helm, or are gearing up to have a woman take over in the future.
One such member is Kallie Stewart, General Manager of Rowell & Searle Auto Transmissions, Adelaide.
Starting out in the industry when she was straight out of school at 18, Kallie didn't have much experience in auto when she joined the family business.
"He [her father] got me in part-time to help in the office with reception work, answering the phone and taking bookings, those sort of things. I wasn't exposed to a whole heap of stuff when I first started," she recalled.
"It was a little bit overwhelming being in a male industry as a whole, but everyone who worked there was nice."
Joint owner of Butlers Mechanical Services, Port Augusta, Tracy Butler had a similar experience.
"We opened our own business in 1985, but I didn't start until after children, so going on 31 years ago," Tracy said.
"But back then it was more clerical work than leadership roles.
"Looking 30 years ago, it was – 'oh there's some chick coming in the door, she won't be able to do this', but these days it's not like that, I find it a lot more accepting."
Since these women started in the industry, they have both seen and been instrumental in the development of the culture and general attitudes toward women taking on more roles in auto.
"Time's changed as we went along, quite rapidly when you think about it," said Tracy.
"It is changing, it's getting a lot better − it is improving and it is always good that people give you that feedback and say, 'you've really changed my mind on this, I now know that females are a part of the industry'," Kallie explained.
"As you finish up the phone conversation with some of them they will say, 'I'm sorry I asked to talk to one of the guys – you do know what you're talking about'."
The common consensus reached when discussing what the industry needs in order to be more attractive to girls as a career path, is simply a greater ratio of women in leadership roles and in the general automotive workforce.
To aid this cause, the female members we spoke to offered advice to girls looking to break into the industry.
"The only way that we're going to break these barriers is if girls actually give it a shot and start proving that they can do it. The only way that we're going to be able to make the change is to have people willing to step into that role to make the change," said Kallie.
Tracy offered similar advice; "Don't give up! If they've got a dream – dream big! They can do anything anyone else can do, no doubt about it."
"I took over a business without knowing what I was going to do. I sat there for two weeks and thought, 'what am I going to do'? And then I thought, 'put your big girl panties on and give this a whirl', and we boomed.
"No one knows what they've got in them unless they push themselves forward."
Tracy and her husband, Ian employ four women in their business, two of which make up their entire spare parts department.
There is also an industry-wide demand for female apprentices at the moment, with applicants being few and far between.
"We have not got a mechanic who's a woman as yet. We went to take one on but she got employed by someone else really fast," Tracy recalled.
Kallie added, "A lot of people are opening their minds to the fact that females do know what they're talking about, and they do have a different learning style than the males, which can be an added advantage."
"Females tend to take notice of a lot more things, and they take their time on things, which I think would be a good thing for the industry.
"It's been a cultural thing that most people just want to speak to one of the boys in the workshop, but it is changing, it's getting a lot better."
One person who can attest to this is Heavy Vehicle apprentice Samantha Murphy, who spoke with MTA Marketing Specialist, Kirrilee Hay about her experiences.
Now in the second year of her apprenticeship with North East Isuzu, Samantha was working in the APY lands grading roads, and was tired of having to wait for help every time her machinery broke down, so she decided to take matters into her own hands.
Samantha sees fixing trucks as a big puzzle that needs solving, and intends to get a job in the mines after she finishes her apprenticeship.
She encourages other girls to pursue a career in automotive, as she believes the more women there are in the industry, the less intimidating it will be for others to join.
Samantha is currently one of two women at North East Isuzu, and looks forward to seeing more women in the workshop in the future.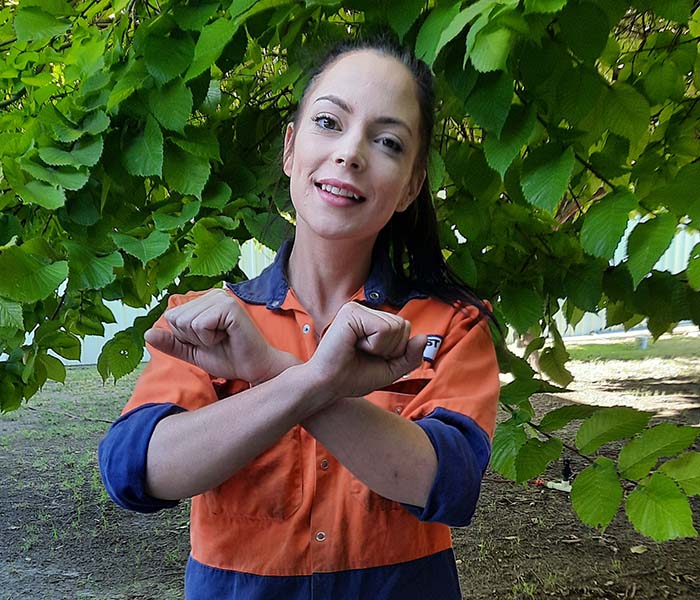 Where women had to be cautious entering a male-dominated industry in the past, today the culture has evolved into one of acceptance, and even demand for their skills.
"It's still a male-dominated industry, there's no doubt about it, but that doesn't mean if a female has got that dream, that you put it aside," Tracy said.
With role models like Tracy Butler, Kallie Stewart and Samantha Murphy in the industry, girls starting out in auto can be assured that they will be well looked after.
The MTA would like to acknowledge all of the amazing women currently working or undertaking apprenticeships in the industry, paving the way to equality, and creating opportunities for the women of tomorrow.
If you know a girl considering a career in automotive, please refer her to Tanya Sanchez, the MTA's Apprentice Recruitment and Support Coordinator at tsanchez@mtasant.com.au, or on 8241 0522.
Beth Hayden
MTA Marketing & Membership Coordinator