An incident occurred at a Host Employer where a Heavy Vehicle Apprentice sustained a deep laceration to his left fore-finger whilst cutting up a heavy vehicle air bag using a utility knife when the blade snapped lacerating the Apprentice's finger. The Apprentice received three internal stitches and eight external stitches and was medically certified totally unfit for work for seven days before making a full return back to normal duties.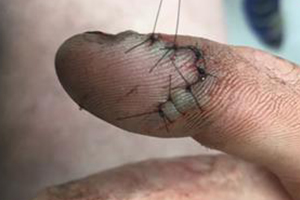 As a result to the incident, a Task Risk Assessment was performed by the Host Employer and it was identified, using the Hierarchy of Control that the task the Apprentice was performing "cutting up the heavy vehicle air bags using a utility knife before disposing of them", could be ELIMINATED achieving the most effective control of all.
The air bags will no longer be required to be cut down using a utility knife and can be disposed of as whole in larger bins thus reducing the risk of laceration injuries from performing this task.The MTA works with a number of people to get apprentices back into the workplace after an injury. If you have an apprentice or other employees that need help, contact the MTA's WHS & RTW Coordinator Cos Lamberto by clicking here.