Standard Clauses in Modern Awards
As MTA members have been advised in previous Award updates, the Fair Work Act 2009 requires that all modern awards be reviewed by the Fair Work Commission (FWC) as part of a four year review process. In a separate but parallel process, the FWC has also been developing standard or model clauses on various common award issues under the Plain Language Re-drafting of Awards. Recently, the FWC issued a Determination varying a number of awards , including the Vehicle Award, in relation to certain Standard Clauses that will have effect from the first full pay period commencing on or after 1 November 2018.
The Standard clauses varied in the Vehicle Award are: Individual flexibility arrangements (Clause 7), Consultation about major workplace change (Clause 8), Consultation about changes to rosters or hours of work (Clause 8A), Dispute Resolution (Clause 9), and Termination of employment (Clause 17).
While most of the variations are unlikely to have a major impact on members, the Termination of employment (Clause 17) which deals with the 'notice of termination by an employee' does include new terms that members need to be aware of. The relevant provisions of the redrafted Clause includes the following changes:
Clause 17.1 – Notice of termination by an employee
(b) An employee must give the employer notice of termination in accordance with Table 1 – Period of notice - of at least the period specified in column 2 according to the period of continuous service of the employee specified in column 1.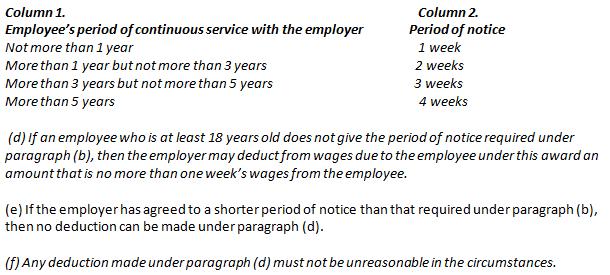 Summary:
While the notice period of termination (or resignation) required from an employee is generally the same as that required of an employer giving notice to an employee, an employer can only deduct a maximum of one weeks' notice in the event that an employee decides not to give the required notice period when they resign. Furthermore, any deduction made by an employer under (d) can only be at the relevant award rate in the award and not include any over-award payment.
Furthermore, no deduction is permissible in the case of an employee under 18 years of age, as prescribed under (d).
Under (e), if there is mutual agreement on a shorter period of notice than that required in (b) then no deduction is to be made.
In relation to sub-clause (f), the FWC felt that unless an employer had informed the employee that a deduction may be made from monies due to the employee in the event that an employee fails to give the required period of notice, it may be unreasonable to deduct such monies.
As indicated above, the variations are operative from the first full pay period commencing on or after 1 November 2018.
Members who wish to access the entire Determination covering all the variations can do so by contacting the MTA's Workplace Relations Department on 8291 2000 or by
clicking here
.