In May this year, Tyson Duffield won the MTA's prestigious Bob Goldsworthy Award, given each year at our graduation ceremony to a standout Vehicle Painting or Panel Beating apprentice in recognition of their performance.
Tyson said, "I started off with no skills at all. To look back and see where I was at the start of my apprenticeship to now, I feel one hundred percent confident that I can now produce a job that I'm happy and comfortable with."
We visited Tyson at his workshop last week, Willaston Auto Body Repairs to film him for our latest promotion of Automotive Refinishing Technology apprenticeships in an effort to further increase awareness of the trade and highlight the career pathways and opportunities that are available to young people.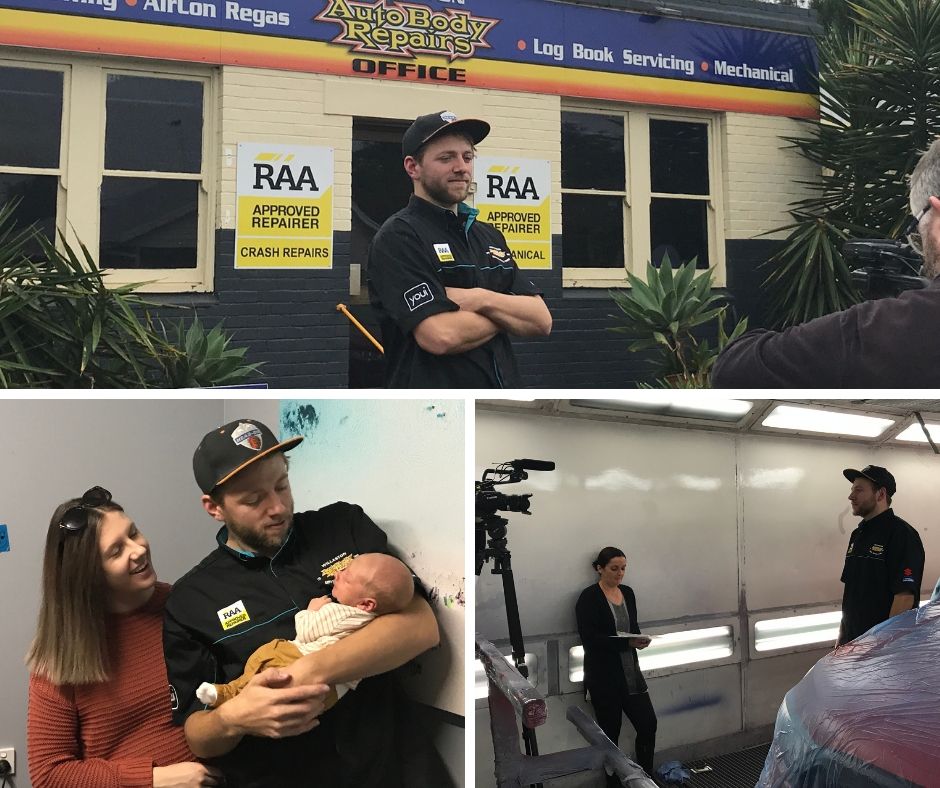 Just a couple of weeks after graduation, Tyson became a proud dad to son, Luka.
Tyson said, "It's all going great at the moment. I've recently graduated and I'm now a fully qualified Automotive Refinishing Technician. I have a partner who supports me and I support her. We've also recently finished building our own house together and now with Luka here as well, I'm looking forward to the future. I still get out on the weekends and get stuck into my A-Grade footy as well for Gawler Central."
"Busy but happy!"
Tyson spoke about the opportunities for young people who want to become a Vehicle Painter saying, "I've learned the skills that I need succeed in this role. I now have employment opportunities in the future such as a management role in the business one day."
Speaking about his employer, Tyson said, "Willaston Auto Body Repairs has been really good to me. They treat me like a part of their family. I just enjoy coming to working every day, focussing on my work and making sure that our customers' cars are painted to a standard that they're happy with."
We look forward to seeing Tyson in the next video, highlighting the opportunities for those who may be interested in an apprenticeship in the Automotive Refinishing trade. These videos are an essential component in showcasing what the automotive industry has to offer in relation to career pathways, where our standout apprentice Alumni have ended up, some owning their own businesses, while others are simply loving life like Tyson.
Increasing the number of quality candidates for our industry is the purpose of these videos and will go a long way in fighting the skills shortage that your businesses are facing.
We will post this promotion on our YouTube page when it is finalised for you to view. It will also be targeted to young people through our social media and online channels, ensuring we are reaching the right candidates for the industry and igniting their passion.
You can access our YouTube page by clicking here.