The MTA has been experiencing a substantial growth in the number of apprentices who commence their training with us across South Australia.
Our 2018-2019 figures reveal that the number of GTO employed and RTO trained apprentice commencements in all automotive trades grew from the previous year. Of the 850 automotive apprentices who commenced their training in SA over the last financial year, 424 of those commenced at the MTA, a great achievement, constituting 50 per cent of the market.
The below table shows our commencement increases over the last five years and current market share of commencements in all qualifications: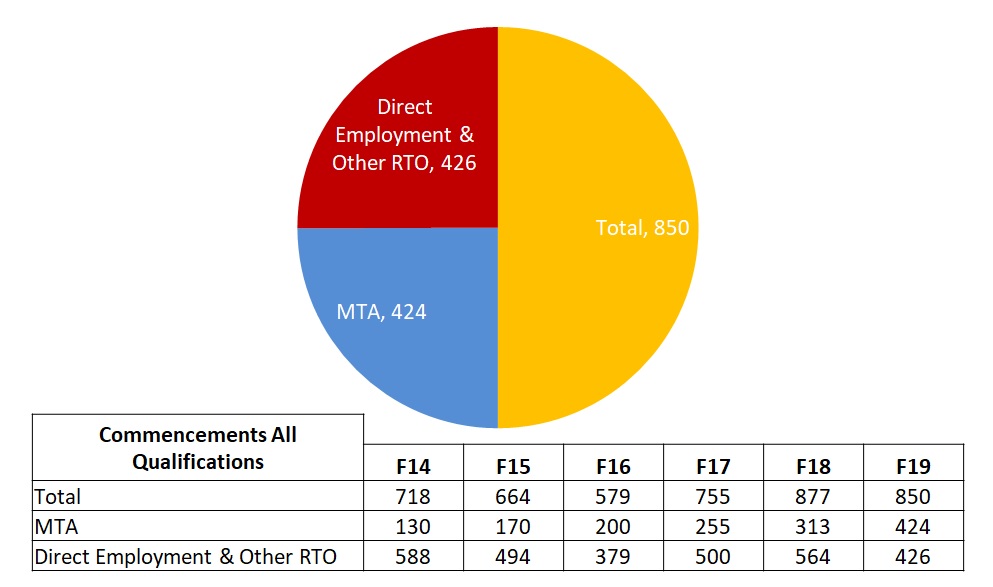 With new trade qualifications added to our scope over the last year, the MTA now currently trains 45 per cent of all automotive apprentices in SA.
With our new promotions campaign up and running, we are seeking to increase the number of automotive auto apprentices in training across South Australia, highlighting the opportunities and pathways young people can take in the industry.
Our work with schools is continuing and this Friday and Saturday, MTA recruitment staff, trainers and Field Officers will be attending the Careers Expo at the Adelaide Showgrounds. They will be demonstrating the opportunities in the automotive industry as well as give demonstrations and Monaro start-ups. These expos are critical in showcasing the opportunities available and we are working hard to do this.
If you haven't done so already, click the videos below to see what we are currently doing to attract young people who have a passion for the automotive industry. We encourage you to get behind these videos and share them to help raise awareness of opportunities in the automotive industry in an effort to fight the skills shortage.