At the MTA, we promote and encourage our Apprentices to work safe and live safe, not only when they are in the workshop but also when they are working outside the workshop!
There are many examples of when our apprentices are working outside their safe workshop environment and need to continue to transfer their safety responsibilities, just as they did at this year's Superloop Adelaide 500.
It was great to see that the all the correct safety precautions, equipment and processes were implemented at MTA's Adelaide 500 stand over the weekend which included:
Personal Protective Equipment (PPE) – safety eyewear, spray painting ventilators, welding aprons.
Safety Equipment – fire extinguisher, first aid kit, vehicle stands, panel stands, trolley jacks
Heat Stress – cold water, ice packs, portable fans, over cover shade
Trip Hazards – ensuring the work area is clear of any clutter at all times
Test & Tag – all electrical equipment have been inspected
The MTA is always focussed on safety in the workplace, whether it is accident prevention or rehabilitation following an injury.
By continuing to raise high awareness to our apprentices to identify and report hazards in the workplace that could create health and safety risks will has resulted in a decrease in workplace injuries this year.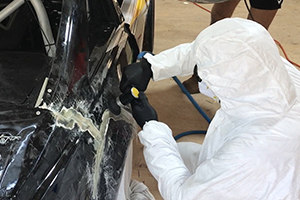 The MTA works with a number employers and workers to manage their WHS systems. If you need any assistance in WHS matters please contact Cos Lamberto at MTA by clicking here.