Thank you to all BRD Members who attended the BRD Information Night last week.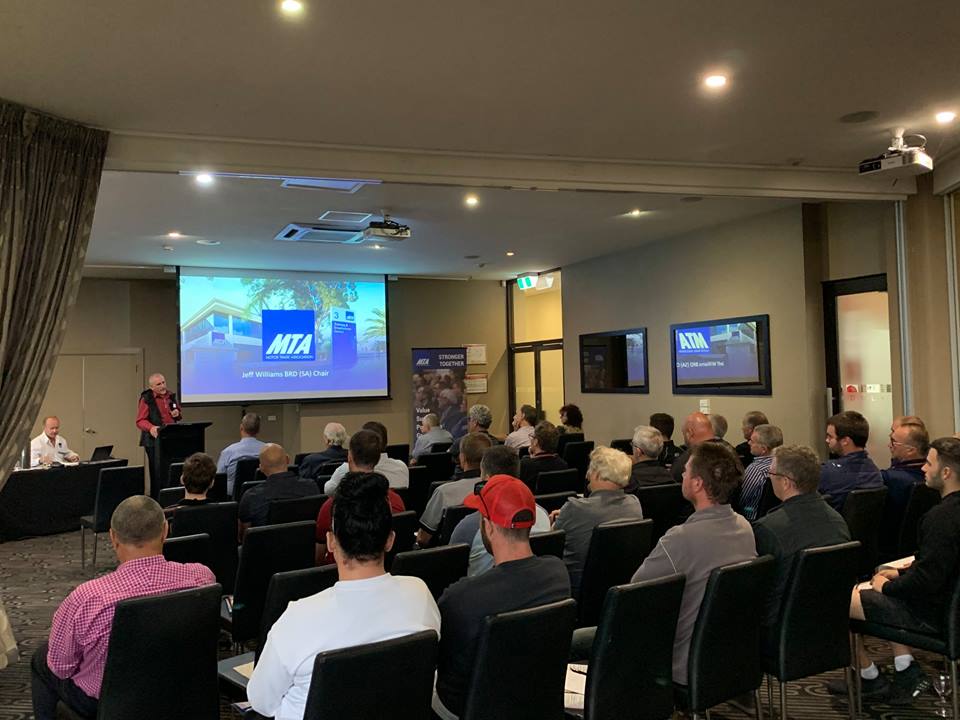 For those who were not able to attend, the following are a number of tools and resources that are available to you to help you stand your ground when up against an insurer who won't be fair and reasonable:
Australian Financial Complaints Authority
Choice of Repairer Chart
Use of critical sections within the MVIRI Code of Conduct
Real time, Real method
Code determinations
AudaNet system training
Our continued advocacy to mandate the MVIRI Code of Conduct
Learn about AFCA (Australian Financial Complaints Authority) and protecting your estimates!
It is pleasing that we now have AFCA as an additional path to help BRD Members to investigate disputes. AFCA offers BRD Members the ability to resolve these disputes when dealing with insurance matters that can be detrimental to customers.
While AFCA is not a government department or agency, their rules were approved by ASIC in September last year. AFCA's complaint resolution scheme is free of charge and complaints from 2008 onwards can be lodged.
Choice of Repairer Chart
There was a new Choice of Repairer Chart unveiled at the Information Night.
Click the image below to access the chart.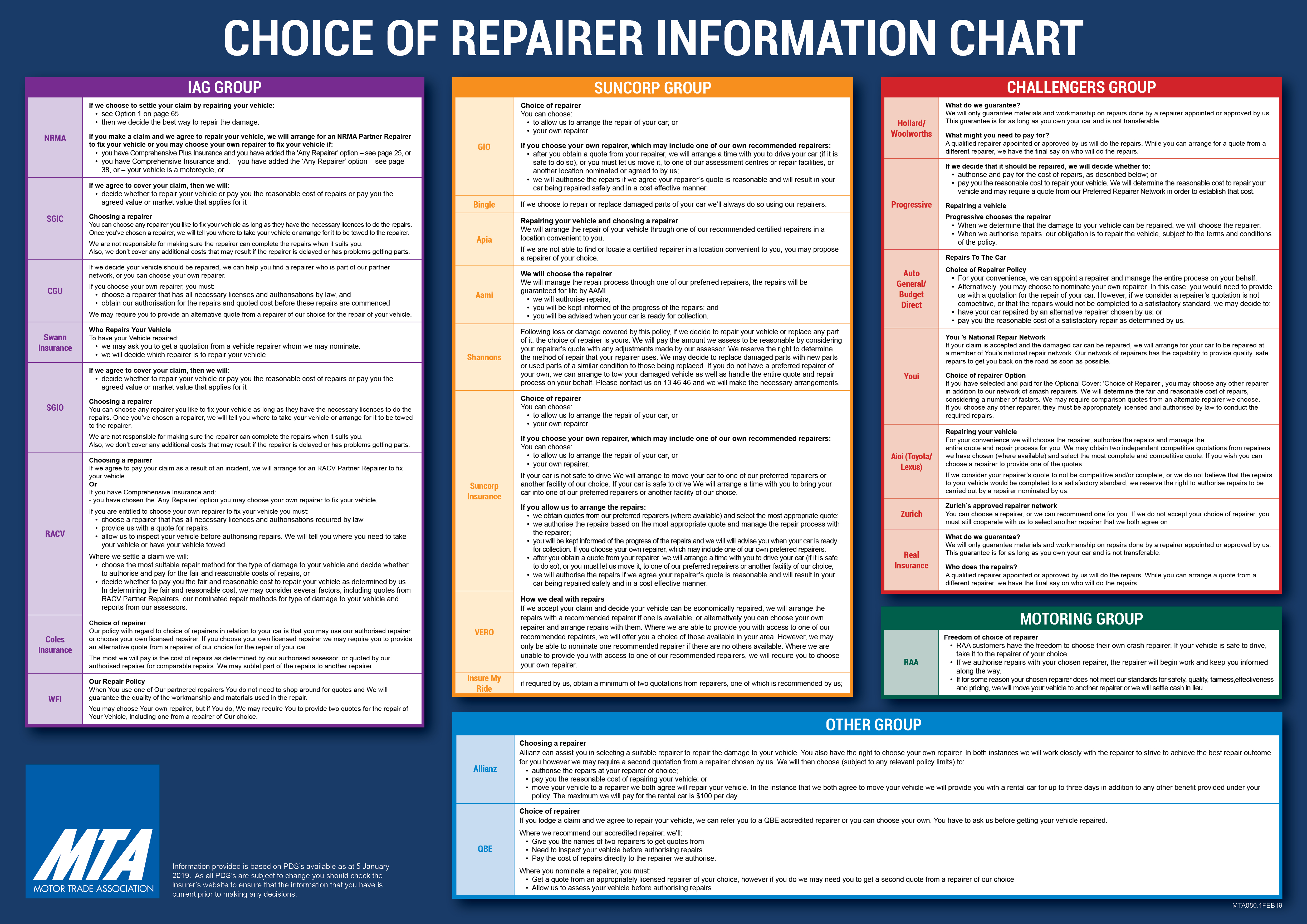 Use of critical sections of the MVIRI Code of Conduct when an insurer has requested a different repair method
Members received important advice on how they can better protect themselves through the use of sections 6.3, 7.4 and 7.5 of the MVIRI Code of Conduct.
These three sections cover circumstances where you, the repairer, have recommended a repair method to a customer's car and the insurer is requiring you to do it differently. In this instance, you must obtain this in writing from the insurer and inform the customer that a different repair method is being requested by the insurer and obtain their authority to proceed. If you don't do this, you will be responsible for the workmanship guarantees on a method that you did not recommend.
We suggest putting at the bottom of all your quotes, "Any changes to this estimate are subject to clauses 7.4 and 7.5 of the 2017 MVIRI Code of Conduct."
Cost Calculator, Real Time Real Method
BRD Chair, Jeff Williams and the MTA encourage all Members to use our Shop Rate calculator to identify costs to establish an accurate charge out rate. This Cost Calculator was released last year and has been used effectively by many Collision Repairers in justifying their case.

Click here to access the Shop Hourly Rate Cost Calculator*.

Click here to access the Shop Hourly Rate Cost Calculator Guidelines.

*This tool is provided to assist automotive body repairers and does not replace getting independent advice from an accountant, financial or business adviser.
Code Determinations
Recent Code Determinations set a precedent for Insurer / Repairer Relations going forward and these were discussed at the BRD Information Night.
In the first case, the determination provided that the Victorian Small Business Commissioner ruled the Insurer cannot dictate an hourly rate to a repairer.
In the second case, the NSW Small Business Commissioner ruled that the Insurer failed to consider the repairers estimate in a fair and transparent manner (s4.2(b)(ii), 6.1(a) of the Code of Conduct) and in both cases, the repairers were compensated for the difference between the repairer estimate and the assessed estimate.
To access the determinations, click below:
Click here for the 'October 10 2018, Code Determination'
Click here for the 'November 16 2018, Code Determination'
AudaNet system training - It's time to abandon Funny Time, Funny Money!
MTA and AMBRA's recognition of AudaNet Private as a suitable industry times guide was also discussed at the Information Night.
The MTA is encouraging Members to attend the upcoming Audanet system training sessions to learn how to apply real time, real method and decide for yourself which estimation methodology you prefer from those available in the marketplace.
The training sessions will be conducted by an Official Audatex Trainer and each training session will go for two days.
Audatex is holding training sessions in Adelaide in May and July. While training session times are yet to be confirmed, we recommend that you register early by clicking here.
Advocacy for a Mandated MVIRI Code of Conduct
The MTA has been advocating strongly with the government following the Royal Commission in to Banking and Finance. The below briefly outlines what is being done and achieved for Members:
Following the Royal Commission, Product Disclosure Statements are being reviewed.
The MTAA will be lobbying the South Australian Government to conduct a Parliamentary Inquiry into the Collision Repair sector in SA, replicating the recent WA inquiry.
We need members who are prepared to stand up, use the Code for the IDR Procedure and record complaints for evidence for an inquiry. Failure to use the system to register your complaints means there is no evidence of any issues.
These complaints provide valid reasons for a Mandated Code of Conduct.
As always, if you have any questions, please don't hesitate to email our Industry Engagement Specialist, Paul Back by
clicking here
.