At the MTA, we have identified that over the past 12 months, 82% of workplace injuries are reported by 1st and 2nd Year Apprentices.
As this statistic may not be a surprise across all Group Training Organisations, it does provide us with a fantastic opportunity to explore how we can improve our safety messages and strategies and turn our focus towards 1st and 2nd Year Apprentices to work safer, smarter and prevent injuries that shouldn't have occurred in the first place.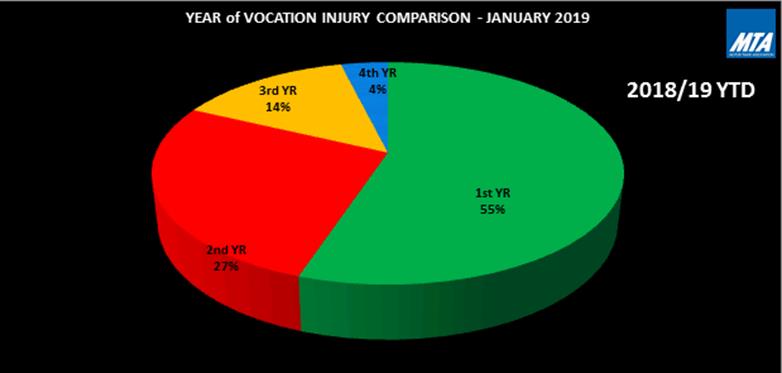 The below graph shows the main part of body injured for FY 2018/19 YTD. Hand, Back, Shoulder and Head are the body location causing the lost time injuries in the workplace.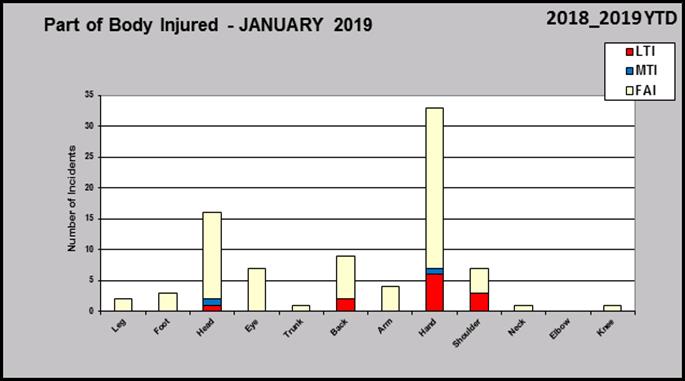 Workplace supervisors must ensure apprentice training, instruction and most importantly, supervision is being met according to the WHS Act.
We thank our Host Employers for their support, dedication and understanding to ensuring their workplace meets the high standards of WHS requirements when a new apprentice is first placed.
Supervision is they key!
A Workplace Supervisor is in a key position to ensure safe systems of work are being followed, they are both a role model and a coach. Apprentices look to a supervisor for guidance and assistance in learning how to undertake their job safely and competently and should be encouraged to raise safety concerns. A supervisor should:
assume apprentices have no prior knowledge of workplace 'norms'
use clear and simple language
explain industry terms
ensure the apprentice understands the instructions
explain related safe work practices
lead by example, and
ensure there are no distractions when teaching an apprentice.
Steps to Effective Supervision
explain the task to the apprentice, including safety risks.
explain the purpose and why you do it that way.
explain all the steps in completing the task, including safety control measures to minimise risk of injury (e.g. machine guarding, personal protective equipment).
demonstrate the task.
provide the apprentice with opportunity to practice the new skill and observe their progress.
provide encouragement and feedback and maintain open communication.
openly support a healthy workplace free from threatening behaviours, such as; bullying, violence, intimidation and verbal, physical, racial and sexual abuse.
If you require any assistance in Work Health & Safety in your workplace, please contact Cos Lamberto WHS&RTW Coordinator at MTA on (08) 8440 2628 or by clicking here.