The Department of Planning, Transport and Infrastructure (DPTI) have generously supplied the MTA's Royal Park Training and Employment Centre with Mercedes V12 OM444LA 22.618 litre diesel engines.
These engines drive 450Kva, 600 volt generators which supply power to the traction motors on the 6000 Series Bombardier trains.
These engines were not being utilised by the Department, having been replaced with newer electronic versions of the same engine for better emission control and fuel consumption. The MTA will now be able to utilise these engines for certain units in our (AUR31116) Certificate III in Heavy Commercial Vehicle Mechanical Technology course.
Heavy Commercial Vehicle Technician apprentices will use the engines for gaining competency in the following units:
AURASA002 - Follow safe working practices in an automotive workplace
AURAEA003 - Monitor environmental and sustainability best practice in an automotive workplace
AURTTC003 - Diagnose and repair cooling systems
AURTTE004 - Inspect and service engines
AURHTE002 - Diagnose and repair heavy vehicle engines
AURTTF002 - Inspect and service diesel fuel systems
AURHTF002 - Diagnose and repair heavy vehicle diesel fuel injection systems
AURTTF005 - Diagnose and repair engine forced-induction systems
AURETR030 -Diagnose and repair starting systems
AURETR029 - Diagnose and repair charging systems
Frank Melino from the DPTI Rail Maintenance Yard in Dry Creek, contacted the MTA's RTO Manager, Mario Marrone, asking if we were interested in the engines.
Mario said, "These engines will definitely assist heavy vehicle apprentices in learning how to work on a different type of diesel engine, broadening their skills."
HSE and Training Officer at Bombardier Transport, Gary Brogan and MTA Trainer and Assessor, Scott Hahesy, all worked together on the logistics of getting them to the MTA's Royal Park Training and Employment Centre, managing to get them in with the help of a 20 tonne crane.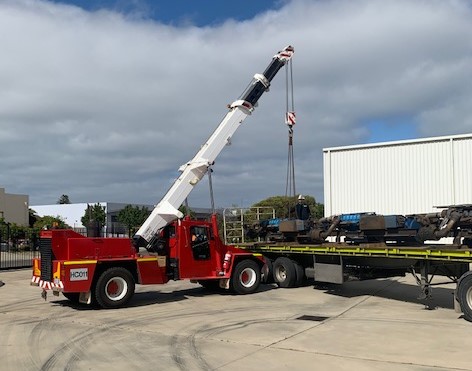 Special thanks go to Frank Melino, Brenton Valladares and Gary Brogan for assisting us in getting these engines to the Training and Employment Centre to assist the next generation of apprentices.

DPTI has joined a list of others who have supplied engines and vehicles to the MTA this past year including North East Isuzu, Kia, Subaru, RAA and Mitsubishi Motors.
If you would like to assist in our training programs, click here to email Mario.