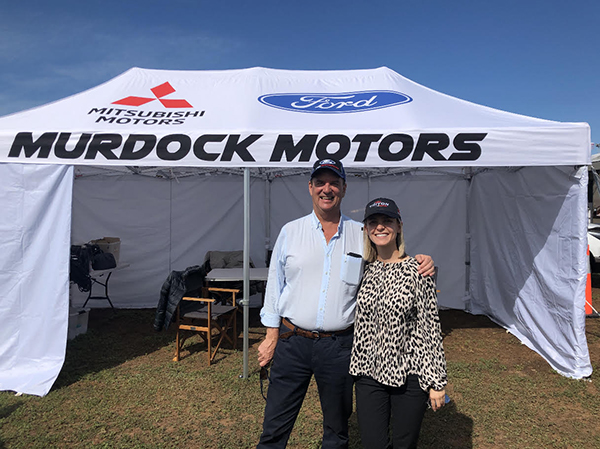 Pictured: Lexie Murdock and her father, Michael Murdock
In a male-dominated industry, taking over a 102-year-old family business, all with a new baby on her hip, Lexie Murdock is doing it all!
Murdock Motors, with locations in Yorketown and Minlaton on the Yorke Peninsula, is a family-owned business which on the first of April this year was passed down to the fourth generation of the Murdocks.
However, unlike the first three generations, the newest owner of the franchise is the previous owner's daughter.
"My great grandpa started selling Fords in 1925, and my grandpa – who's passed – was the second generation, my dad was the third, so I'm the fourth," said Lexie.
"My great grandpa was selling cars before Ford was incorporated, so it's over 100 years old, but then in terms of exclusively selling Ford it's just under that."
Purchasing the Murdock franchise from her father wasn't always on the cards for Lexie, who only moved back to her hometown on the Yorke Peninsula in August of 2017.
Prior to moving, Lexie was a Chartered Accountant at Price Waterhouse Cooper's for four years.
"Did I ever think I was going to come back and sell cars and run the business? No, but I'm absolutely loving it!" she said.
"Dad is going to be 60 next year, so he is still very young – but he was thinking ahead as well, and was looking at what he wanted to do, whether he was going to sell.
"I've got a brother and a sister as well. There was never any pressure for any of us to take over.
"When I returned home, I think in that first week I decided that, yep, this was definitely for me."
Four years in the making, Lexie describes the handover process from her father as very smooth.
"I began in the business as General Manager, doing the day-to-day operations, plus doing the sales with dad," she said.
"I'm very lucky, I suppose, that my dad is very forward-thinking and wanted to hand over the reins early."
Adding to the stress and demands of being a new business owner, Lexie and her husband, Jack, welcomed their first child into the world in October last year – Leo Jack Barlow.
"It was certainly a busy time having a baby whilst trying to buy a business," Lexie explained.
"When I decided to start a family with my husband, Jack, I supposed there's never really a good time to have a baby.
"I wanted to do it all – I wanted to have a baby and I still wanted to have a career and be in business, so we just make it work."
Lexie contends that the most important factor contributing to her success in taking over a business while starting her family is having a strong support network.
"I'm lucky, Dad is still involved in the business, he has retired but is still around in a consulting role," she said.
"You've got to do what you can, and the rest you've got to learn to be able to delegate, and have faith in the team around you and your family – that they're going to help you out as well.
"I'm really fortunate to have a super supportive family, and all of my staff are fantastic as well. I've got everyone on board, so that really helps."
A new mother paving her own road in a rural male-dominated automotive industry, Lexie has a great deal of encouraging advice for other women looking to follow in her footsteps.
"You can definitely do both," she stated.
"We're so lucky that we're in the 21st century, where women are encouraged to come back to work, and they are supported.
"Certainly our industry is male-dominated, but that just makes it that little bit more exciting.
"I think, as long as you're passionate about it, you can make it work – you just have to be willing to."
For members looking to take over a family business in the future, Lexie encourages you to pursue the option.
"Working with family is extremely fun! You can say what you want, because at the end of the day they have to love you," she joked.
"So, absolutely I would say, have a crack if you want to give it a go. What's the worst that can happen, really?"
Although the business has been part of the MTA for over 50 years, as the new owner of Murdock Motors, Lexie is the newest MTA member in the Yorke and Mid North Zone.
The MTA wishes Lexie and her team the best of luck in this new chapter of the business, and as always, is on hand to assist in any way we can.