New fines will be in effect from May 1 this year for heavy vehicle drivers who exceed the speed limits on the South Eastern Freeway between the Crafers Interchange and the bottom of the Freeway.
From 1 May 2019, truck or bus drivers whose vehicles are not engaged in a low gear, or exceed the relevant speed limit by 10km/h or more will receive:
A expiation fee of $1,036 plus six demerit points plus:
Six-month licence disqualification for a first offence
Twelve-month licence disqualification for a second offence
Three-year licence disqualification for subsequent offences
When convicted by the court, a first offence will attract a maximum fine of $5,000, plus six demerit points and a licence disqualification of no less than 12 months. Subsequent offences will attract six demerit points, a licence disqualification of no less than three years and up to two years imprisonment.

The body corporate levy fee for a speed offence on the same stretch of road will increase from $300 to $25000!

A maximum 60km/h speed limit applies to all trucks and buses from the Crafers Interchange to the bottom of the freeway.
When descending the South Eastern Freeway, truck and bus drivers must:
Use a gear that is low enough to limit the speed of the vehicle without the use of a primary brake, and
Not drive at a speed in excess of the relevant speed limit
We are seeking clarification of the enforcement strategies involving heavy vehicles that only have a primary braking system and a handbrake.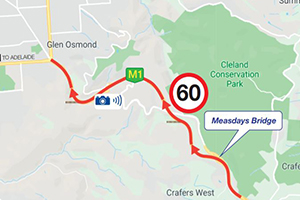 It is important to note:
A
Truck
is a motor vehicle with a Gross Vehicles Mass (GVM) of more than 4.5 tonnes, regardless of the body type of the vehicle (excluding tractors, trams and buses).
A
Bus
is a motor vehicle built to carry more than 12 adults including the driver (regardless of GVM).
Click here
for information from the Department of Planning, Transport and Infrastructure on the changes.