The Motor Trade Association of South Australia (MTA), in partnership with Tradiebot Industries, has today announced the launch of an Automotive Innovation Hub.
The Hub will be based at the MTA's Training and Employment Centre at Royal Park and will focus on delivering industry 4.0 automotive skills through new training programs and will be the space for the automotive industry to display R&D innovation in the service and repair sector.
Inaugural partner of the Automotive Innovation Hub and Australian based innovative leader, Tradiebot Industries, has contributed a number of new technologies and training solutions that showcase advances in productivity, efficiency and developments within the automotive service and repair sector. These new technologies include the practical use of virtual and augmented reality and 3D printing. Demand for these products is now worldwide and we will be bringing them to the state through the Automotive Innovation Hub.
The Hub will offer these exciting new innovations and services to MTA members, local community groups and government organisations which will be able to be showcased to schools to stimulate interest for trades in the automotive industry. The Hub will allow students to see, touch and try these new technology tools and acquire new skills that will be required from our future workforce.
The Minister for Innovation and Skills, Hon. David Pisoni MP, congratulated the MTA and Tradiebot Industries on the launch of the Automotive Innovation Hub saying, "I commend the MTA and Tradiebot Industries for partnering on this initiative which demonstrates how important it is for vocational education and training to be up to date with the latest in modern technology."
"The skills required for jobs across various sectors are increasingly being developed with the use of new technology and training methods, and it's important that we continue to develop a skilled workforce in the automotive industry."
"It's critical that we continue to grow the number of apprentices and trainees in South Australia by working with industry to meet the skills needs of our state's existing and emerging industries, so that we can boost our economy, build productive infrastructure, grow our exports, and create long-term career pathways."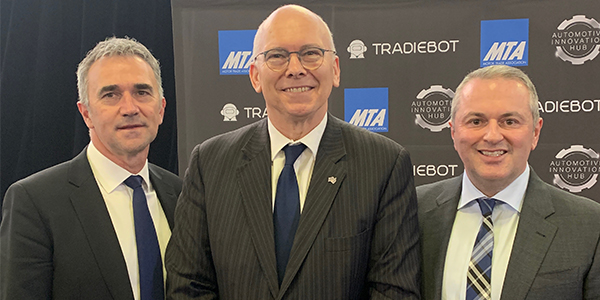 MTA CEO, Paul Unerkov added, "We are excited to bring the Automotive Innovation Hub to life and to work with such a forward thinking and Australian company as Tradiebot to deliver these new tools and technologies to the automotive service and repair sector in South Australia. This innovation hub will be the core of delivering new skills, training and advancing technologies to our current and future workforce."
"The centre will also showcase the latest in automotive innovation to schools and students allowing them to see the latest technologies being used and developed in the automotive service and repair space. This will provide a new perspective to the trade and demonstrate the stimulating career interest in our industry that is starving for new, fresh talent."
The Automotive Innovation Hub will create new opportunities for apprenticeship training, allowing those in our training programs to experience a new way of learning through augmented and virtual reality.
Tradiebot Industries was able to showcase a number of their new technologies and training solutions including a virtual reality spray painting simulator, augmented reality smart tools that allow Automotive Technicians to access live repair and service information on vehicles with a touch of a button on their mobile phone or smart devices and their newly released 3D printed parts used for car repairs.
Mario Dimovski, CEO of Tradiebot Industries said, "This is a perfect partnership and location to launch such a venture and kick start the local automotive service, repair and digital manufacturing industry in SA."
"Tradiebot is an industry leader in automotive innovation and we aim to transfer these skills and technologies through this centre to the local industry and students that will make up the future of our workforce. The MTA has set the trend and is leading the way in Australia tackling ongoing issues and thinking about the future of the industry."
"We have some very exciting plans for the centre and the state. We have already started talks with potential universities, industry and Government partners to conduct future R&D activities in the hub in order to develop ground breaking innovation and technology that targets automotive repair and servicing that is very exciting and new for the state."
The initiative is in its early stages, with talks of collaborative partners from local automotive manufacturers (OEMs), automotive businesses, suppliers, government bodies and industry associations who can add value to the Hub and its objectives.
For further details on Tradiebot Industries, contact Tamara Lepar on (02) 9439 6776.
For further information on and images of the Automotive Innovation Hub, contact the MTA's Marketing, Communications and Membership Manager, Daniel Forbes, on (08) 8291 2000.