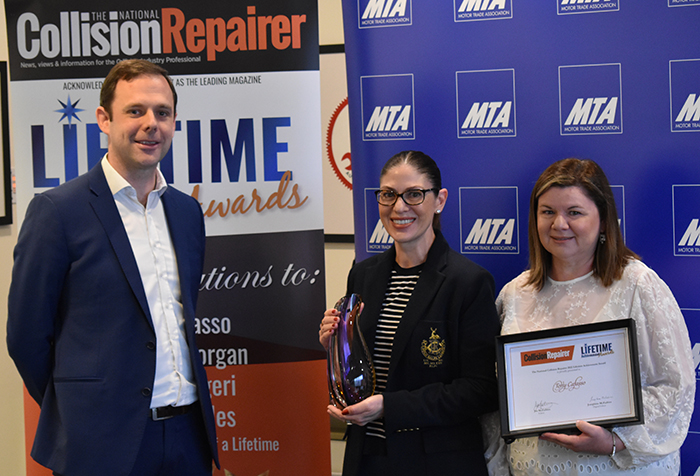 Last Friday morning, the MTA played host to a truly special occasion.
Joe McFadries, Editor of National Collision Repairer magazine, flew to Adelaide to meet the daughters of the late Tony Cafasso, Tania and Michelle, who could not be present at the recent awards ceremony to accept a posthumous Lifetime Achievement award on behalf of their father.
Tony first joined the MTA in 1976, owning Cafasso Motor Body Repairs on Richmond Road, Keswick.
He opened his business after coming to Australia from Italy at the age of 19 in the 1950s, without being able to speak the language.
After a couple of years working as a spray painter, he started his own business repairing Rolls-Royces and Bentleys and became one of the first factory-approved Mercedes Benz body repair shops in Australia.
Through his many decades in the industry, Tony is remembered for his outstanding contributions to the collision repair community.
The MTA's Industry and Engagement Manager, Kaes Cillessen spoke to the room on behalf of MTA CEO, Paul Unerkov.
"With close to 60 years' experience in the industry, it's remarkable to consider the evolution of collision repair that Tony witnessed and was a part of – not just through the vehicles over this time, but more importantly, the transformation of industry practice and expertise," he said.
"Tony was not just present during this evolution – Tony shaped it and he gave back to the industry as both a leader and mentor."
Joe explained to the room that Lifetime Achievement awards are not given lightly, with Tony earning his place among the distinguished honour roll.
"Those that understand the importance and significance of the award get to vote on the recipients," he explained.
Among those deciding who is able to join the prestigious group are the 46 active former recipients of the award.
Joe explained that the strength of the response to his nomination amongst the former recipients attested to his contribution to the industry.
Tania and Michelle were presented with Tony's Lifetime Achievement award and expressed their appreciation for the recognition.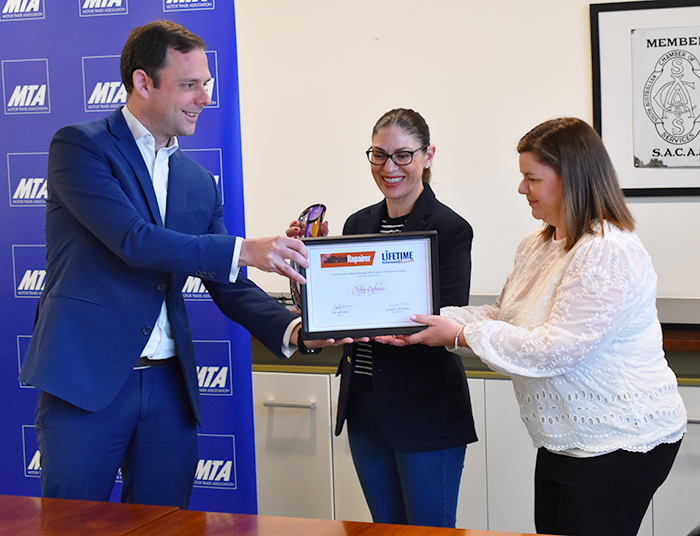 "He would have been so thrilled and humbled about this," Tania said.
"We're so honoured to accept the award on his behalf."
The award presented is a unique handmade glass vase, commissioned specifically for the occasion.
Also present were Jeff Williams, a fellow former Lifetime Award recipient, and Jimmy Feleppa, who nominated Tony for this award.
The MTA would like to extend our congratulations to the Cafasso family on receiving this prestigious award.