In January, South Australia produced a total of 33,422 new and used registrations representing a 5% decrease year-over-year with 1,775 less vehicles registered than January 2018 and a 10% increase over December 2018.
Nationally, January produced 81,994 units in new vehicle sales, down 7.4%, (6,557 units) year-over-year. Nationally, new vehicle sales were also down 6.3% on December 2018.
South Australia produced 5,049 units. This is down 5% on January 2018 (265).
SUV's continue to lead the market in South Australia with 42.8% of the share. Passenger vehicles took 34.6% of the share and other vehicles took 22% of the share in January.
The year-over-year comparison of January registrations from 2018 to 2019 are as follows:
New Cars (light vehicles) down by 12% (-723)
Motorcycles down by 24% (-66)
Tractors and Industrial Machinery down by 19% (-41)
Caravans up by 24% (+28)
Truck and Bus up by 20% (+30)
Used light vehicle registrations (including first time registered in SA, which could be made up of interstate transfers, for example) totalled 27,227. This was 4% down on January last year (-1,175 units) but 14% up on December (+3,395 units).
There is interesting news for Licensed Vehicle Dealers. Dealer sales totalled
5,687
for the month. This is down 169 units on January 2018 (-2.9%).
Private sales (analysis based on Private and Business selling to Private and Business) are as follows:
January's private market totalled
14,000
vehicle transfers. This is
down 5.2% Year-over-Year
(14,765 units transferred in January 2018).
The following chart shows where individuals and ABN holders are buying their cars. Of the 24,861 registrations, private consumers and ABN holders bought 19,813 cars (dealers "bought" the rest by way of wholesale or trade-ins).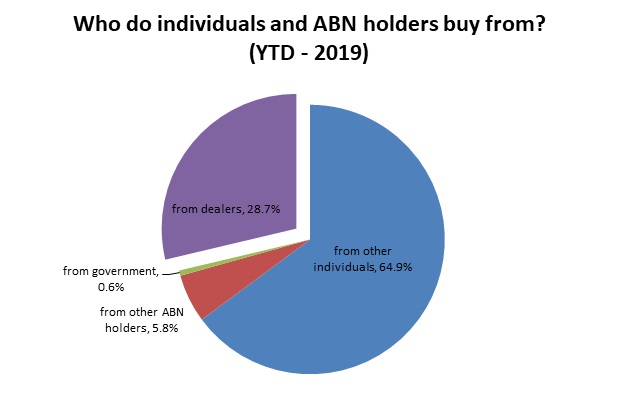 We will keep an eye on this trend during the year and hopefully see the "from dealers" percentage get over 30%.

In regards to motorcycle registrations in South Australia, there were 1,807 total registrations (new and used). This is 1% down on January 2018 (-19 units) and 9% up on December 2018 (+165 units).
New registrations (at 215 units) were down 21% on January 2018 (-58 units). Many big brands were well short of last January's results with Yamaha the only volume brand holding its own.
January's Used registrations of 1,548 were 200 units up on December (+14.8%) and 56 units up over January last year (+4%).
Dealer to Private registrations, at 102 units, was only 8% of the market (the 2018 average was 9.6%).
If you have any questions in regards to January's figures, or wish to find out more about the reports, click here to contact our Industry Engagement Specialist, Nathan Groves.