There has been an update on the implementation of the Fair Work Amendment (Modernising Right of Entry) Regulations 2019 (the Regulations), ahead effective July 1.
The Fair Work Act 2009 and the WHS Act 2011 enables organisation employees, such as union officials (entry permit holders) to enter workplaces and exercise certain powers while at those workplaces including investigating breaches of the Fair Work and WHS Acts and initiate discussions with employees.
The permit holder must have reasonable grounds for suspecting a contravention has occurred or is occurring.
The permit holder can only exercise these rights if all the following are met:
the suspected contravention relates to or affects at least one member of the permit holder's organisation
the organisation is entitled to represent the industrial interests of that member e.g. they are a member of the union
the member performs work on the premises
unless the Fair Work Commission has issued an exemption certificate, an entry notice is given to the occupier of the premises and any affected employer, during working hours at least 24 hours, but not more than 14 days, before the entry.
Whilst on the premises, the permit holder may do the following:
inspect any work, process, or object relevant to the suspected contravention
interview any person about the suspected contravention:
who agrees to be interviewed and
whose industrial interests the permit holder's organisation is entitled to represent.
From 1 July 2019 the Fair Work Commission will be issuing permits that include a photo and the signature of the permit holder. Members should be aware that existing entry permits will continue to be valid until they expire.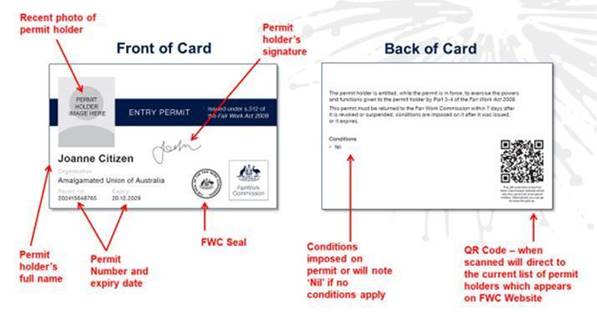 Members should also be aware they must not:
refuse or unduly delay entry to a permit holder's entitled to enter the premises
refuse or fail to comply with a permit holder's request to produce or provide access to records or documents
intentionally hinder or obstruct a permit holder who is exercising their right of entry power
misrepresent themselves by intentionally or recklessly giving the impression they are authorised to do things they are not authorised to do.
If you have any concerns in relation to entry permit cards, click here to contact the MTA's Workplace Relations team.