A person conducting a business or undertaking (PCBU) has the primary duty to ensure, so far as is reasonably practicable, that workers and other persons are not exposed to health and safety risks arising from the business or undertaking.
The WHS Regulations include specific obligations for persons conducting a business or undertaking to manage the risk of a musculoskeletal injuries associated with a hazardous manual task.
The PCBU must ensure, so far as is reasonably practicable, that the plant or structure they design, manufacture, import or supply is without risks to health and safety (Officers, such as company directors, have a duty to exercise due diligence to ensure that the business or undertaking complies with the WHS Act and Regulations.
This includes taking reasonable steps to ensure that the business has, and uses, appropriate resources and processes to eliminate or minimise risks that arise from hazardous manual tasks.
Workers have a duty to take reasonable care for their own health and safety and that they do not adversely affect the health and safety of other persons. Workers must comply with any reasonable instruction and cooperate with any reasonable policy or procedure relating to health and safety at the workplace.
Most jobs in the workforce involve carrying out manual tasks in some way, shape or form. A hazardous manual task is one where you engage in a process that may put your body at risk of suffering an injury.
One significant way you can reduce the risks associated with manual handling is in delivering staff training dealing with correct manual handling techniques which can reduce associated injuries. Those workers who perform manual handling tasks frequently should receive appropriate training to maintain up to date to knowledge and awareness on correct manual handling techniques in the workplace.
We are pleased to have worked in partnership recently with MTA member, Australian Motors, to roll out their staff Manual Handling Training this year. Great Work Suzanne Cornish, Group Manager – People, Culture & Safety at Australian Motors for ensuring the training went through smoothly across their sites.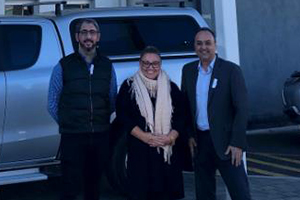 To learn more about manual handling training that we provide, click here to email the Workplace Relations team.