Workshops must make considerations for safety when workers are required to work under raised vehicles. Although this everyday task of raising a vehicle for servicing is performed by competent and trained workers, it should never be taken for granted. The consequences may be fatal if a hoist collapses while an employee is working underneath it. An employer must, so far as reasonably practicable, ensure a safe working environment. In order to achieve this consistently, there are a number of responsibilities an employer must adhere to:
Hoist purchases must comply with Australian Standard AS/NZ 1418.9 – Cranes (including hoists and winches) – Vehicle hoists
'In House' training of all users of the hoist should be undertaken
Ensure hoist decals, operation manuals and/or any other safety procedures are available
Maintenance and repair logs must be recorded and retained
It should be noted, that businesses are required to organise a 'major inspection' on vehicle hoists purchased. Carried out by a suitably qualified person, the Australian Standard specifies major inspections to be performed when the life of the hoist reaches 10 years. Thorough evaluations on lift mechanisms, operating mechanisms and safety systems are examined as a means of identifying potential risks associated with hoist operations. The Australian Standards also requires a 'future use' inspection to be carried when the hoist is 25 years old. Hoists have a 25 year 'design life', at which point an employer must consult the hoist manufacturer for an extension to be granted for its continued use.
If a hoist does not meet the criteria set out for an extension to design life, it is to be decommissioned and removed from service. Below is a list of control measures which are applicable for vehicle hoists.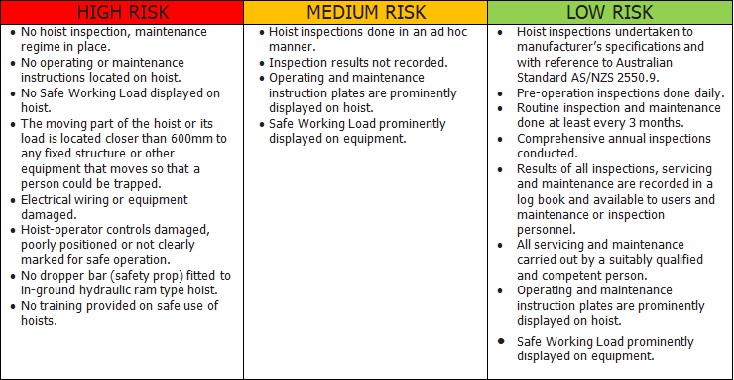 The MTA is available to assist your workplace with crucial vehicle hoist safety procedures. Click here to contact the MTA's Workplace Relations team to organise training.