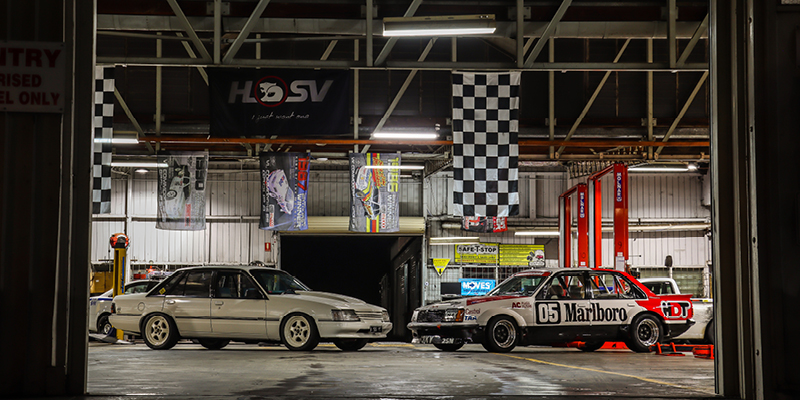 Photos of 'Holden back home' by Dan Parsons of Traction Photography

On Saturday October 17th, Peter Page Holden and Team ShedSpec hosted the fifth annual 'Holdens back home 2020' charity event. Given restrictions in place due to COVID-19 and GM's decision to remove Holden from its line of brands, this year's event was not like any other.
As a Holden Dealer Paul Page from Peter Page Holden reflected on the significance of this event in these times.
"Holden's back home (HBH) initially came about through our Service Manager, Colin Baker's, involvement in the Aussie Muscle Car Run, an event that brings together owners of classic Australian Muscle Cars for the purpose of raising funds and awareness for the Leukaemia Foundation.
"For the past 5 years the guys from Team ShedSpec and Peter Page Holden have collaborated to put together the Holden's back Home event. Traditionally a chance for Holden owners to bring their classic, muscle or modern Holden vehicles back to the Holden dealership and put on a display of amazing vehicles for the day. With the dealership clearing out the service workshop and new car display areas, allowing for over 70 years of Holden history to take over this space.
"In 2020 the HBH event took on a different emotional attachment for the entrants on the day and securing a space became tough as the event sold out to capacity very early on, with the Holden announcement that the brand was to retire by the end of the year. Suddenly we had more owners wanting to display than we had the real estate to cater for. Then came along COVID-19. This put a cloud over the event and we were not sure that we would even be able to go ahead, however, we love a good challenge and through some hard work, regimented processes and adhering to social distancing policies, we were able to press on. Understandably, this ultimately relied on South Australia remaining in a COVID clear bubble. What this did raise was the concern that we would have to tightly control the total number of entrants and spectators for the day. As we ask for a gold coin donation and hold silent auctions of Holden memorabilia, we feared that we would not be able to raise anywhere near as much in charitable donations as we have in previous years.
"With all that 2020 has thrown at the world we also shifted our focus to supporting mental health and wellbeing. So, a connection with Beyond Blue was formed and all fundraising efforts for this year have been steered into this direction to ensure that those people struggling to cope in these tough times have a place to lean on and gain the support they need to press on for a brighter future.
"In comparison to previous years our attendance numbers were down considerably as we did not overly promote the event. It was kept somewhat low key however, those that did take part had a really amazing time with an array of great vehicles on display and thanks to the rebranding of our business and with the blessing of Holden we were also able to auction off some of the Holden signage from around the dealership. This is not something that was unique to our dealership and we thank Holden for supporting our efforts in raising funds for such an important cause.
"Since our first year we have raised in excess of $30k for these foundations."
This event has been a great opportunity for Holden dealers within South Australia to reflect on the important part they played in Holden's time within Australia.
"This event has been massive for a number of reasons. It's about ensuring that Holden remains relevant, and always remembered as an important part of Australia's, South Australia, but especially Peter Page's history. In 2021, Peter Page will celebrate 50 years of being in the automotive industry, with 49 of these years being Holden.
"As a Dealership, and family owned and operated business, who highly values its staff and sees them as family as well, the Holden Back Home event, has brought our customer base and staff even closer together. Being able to promote the Holden car community and to generate valuable funds for the Leukaemia Foundation over the last 4 years, and this year for Beyond Blue."
The exit of Holden from Australia has had a huge impact on many dealers across Australia, and has really highlighted the need for Franchising Agreement Reform.
Currently the Australian government is reviewing Franchising Agreements and possible reforms. The MTA SA/NT and the MTAA's remain vigilant with their staunch advocacy efforts to ensure the automotive industry has a strong voice within these discussions. If you would like to learn more about Franchising Agreement reform, please click here.
Now is an opportune time for Holden Dealers to start a new page in their story.
"HBH 2020, was special in many ways. The last event, with Holden still "living and breathing" from a new car sales perspective. But, the first announcement to the public (we were literally told the day before on the 16th of October), that Peter Page had been given a new franchise. Having been Peter Page Holden, the Home of Holden, for 49 years, we were officially anointed as Peter Page Hyundai, the Home of Hyundai!
"Peter Page Automotive will continue to service Holden vehicles, supply parts and accessories for Holden vehicles, for the next 10 years. But the transition to Hyundai, a top 3 brand nationally, is an exciting time for the staff at Peter Page, as well as Paul Page (Director-Dealer Principal), Luke Page (Director-General Manager) and Barbara Page (Director)."
If you would like to become a MTA member, and learn about the MTA's advocacy efforts for Franchise Agreement Reform and more please contact us on 8291 2000 or email mta@mtasant.com.au.
For the 'Off the Street Australia' 30 minute video tour of 'Holdens back home 2020' click here.