An immediate suspension of a high risk work licence class C6 – slewing crane (with capacity under 60 tonnes) was issued on Friday, 14th of February following a notification of an incident the previous day where a crane tipped over while lifting a load at a construction site in Edwardstown.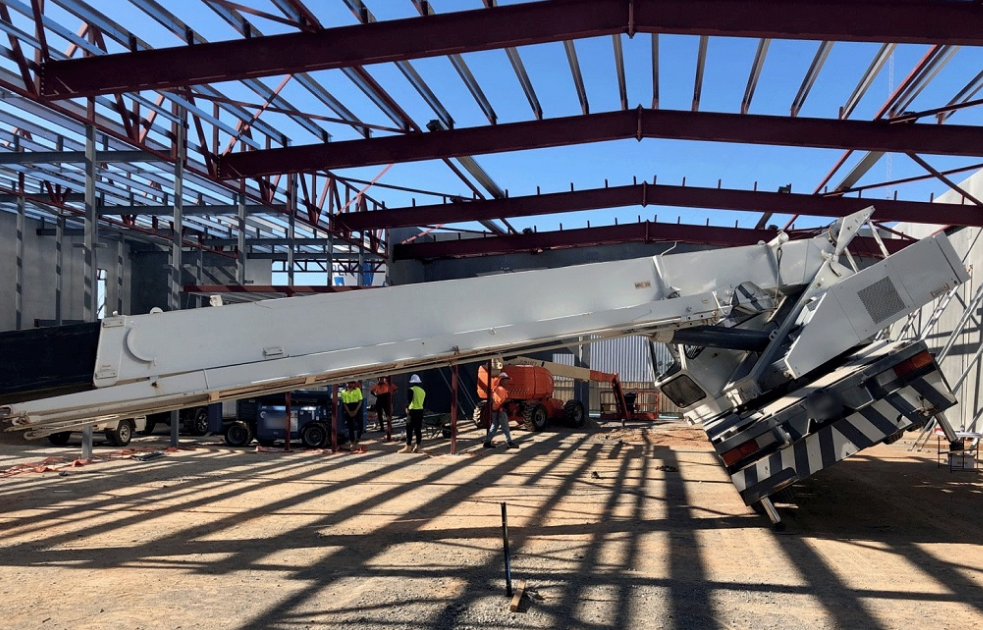 SafeWork SA attended the site and conducted investigations into the incident and believe the crane operator failed to take reasonable care of his own health and safety and failed to take reasonable care that his acts or omissions did not adversely affect the health and safety of other persons.
No injuries were sustained however, the incident could have resulted in the imminent serious risk to the health or safety of workers at the construction site when the crane tipped onto its side.
Reminder of licence holder obligations
SafeWork SA reminds high-risk Work licence holders that their licences have been issued on the basis that they have been trained, assessed and deemed competent to undertake the class of work safely. They have a duty to ensure their actions do not put themselves or others at risk of injury or harm whilst undertaking work activities.
SafeWork SA also reminds high-risk work licence holders of their duty to take reasonable care to carry out activities safely and competently. High-risk work licences should provide some assurance and peace of mind to employers that the licence holder is competent to safely operate the plan while managing the risks and hazards.
SafeWork SA will not hesitate to immediately suspend high-risk work licences where there are grounds reasonable care has not been demonstrated.
High Risk Work Licence
An individual must be licensed for a class of high-risk work before they carry out that type of work.
A licence to perform High Risk Work is recognised all around Australia as part of a national licensing system and is required for the following kinds of work:
Crane and hoist operation
Dogging and rigging work
Forklift operation
Pressure equipment operation
Scaffolding work.
Cancellation/suspension of licence
SafeWork SA can suspend or cancel a High Risk Work licence and disqualify the licence holder from applying for other licences if the licence holder has failed to take reasonable care to carry out the high risk work safely and competently.
The MTA works with a number of members in providing necessary staff training in relation to work, health and safety.
For more information on WHS training in the workplace, please contact the MTA's Workplace Relations team by clicking here.
For further information on High Risk Work, licences please refer to SafeWork SA's website by clicking here.