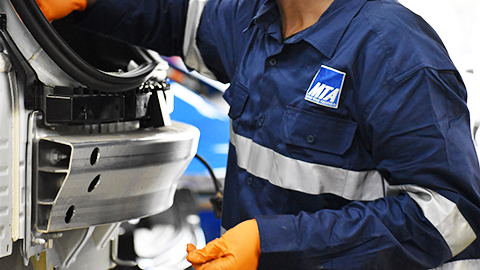 It's no secret that the automotive industry is crying out for more workers, with most MTA members at recent meetings voicingthat they would hire another staff member tomorrow if they could.
However, with record-high employment rates in Australia, and the jobs market leaning heavily in favour of job seekers, finding the right person for the job isn't that simple.
Many members are adding to the next generation of qualified workers in the industry by hiring and mentoring apprentices.
Despite this, the skills shortage continues.
At the most recent Industry Advisory Council (IAC) meeting, MTA CEO Paul Unerkov discussed another, currently underutilised, way that industry employers can access the skilled workers of tomorrow.
School-based apprenticeships historically have a low uptake from the automotive industry given many of these part-time apprentices are only available for as little as one day per week in the workshop while they finish their schooling.
The Department for Education has been receptive to this and through consultation with industry bodies such as the MTA, they have worked with schools to ensure that school-based apprentices are available in the workplace as much as possible, with most now attending two-to-three days per week. Many in Year 12 can be released full time while still enrolled at school.
While the part-time nature of a school-based apprenticeship can still seem inconvenient to some employers, this type of apprenticeship will contribute significantly to reducing the current skills shortage.
Young people in Years 10, 11 and 12 are presented with a myriad of career and further education opportunities during their final years of school.
Other industries and tertiary education organisations are desperately trying to convince these waves of school-leavers to dedicate their futures to one specific career or industry. Leaving it until Year 12 to attract students to an industry is now too late, as the cream of the crop have already made their mind up when choosing relevant subjects or vocational courses to study in Years 10 and 11.
For 16 and 17 year olds, this decision of what they want to do carries a lot of pressure and can be amplified by key influencers in their life – so it's not taken lightly!
However, school-based apprenticeships are a risk-free way for young people to get their first taste of employment, avoiding any culture shock from jumping straight into full time work, as well as guaranteeing ongoing employment upon graduation.
For a lot of young people, this kind of apprenticeship is the perfect opportunity to follow their passion and commit to the automotive industry early in the decision making process, rather than floundering on other paths that don't suit their skillset.
These keen and committed young people are already dedicated to the industry and display a passion for learning, and as a result are much more likely to stick with a business for the long haul.
While taking on a school-based apprentice comes with its challenges as an employer, it's a chance to mould your perfect team member before they pick up bad habits elsewhere. Or, having that potential employee picked up by another automotive employer or industry.
One person who can attest to the success of school-based apprentices is Mark Papillo, Dealer Principal at North East Mitsubishi, Hillcrest.
During the most recent IAC meeting, he shared his experiences about a recent school-based apprentice he hosted.
"She did a week of work experience and she did really well," Mark said.
"So, we asked her if she wanted to do one day a week, she said yes, and it's been a really positive experience.
"All new apprentices haven't got any experience, so they're all a cost factor initially, but our school-based apprentice is now showing that she's being productive and making us money."
Mark's philosophy in hiring a school-based apprentice is that he believes more education will add value to both the apprentice as a person, but also to his business down the track as these apprentices move on to more senior roles.
"It's a win-win for everyone. Their prospects grow if they are better educated," he said.
"Plus, our industry is not like before, where people were wanting to get in – now, we have to attract them. School-based apprenticeships will attract them.
"You can't be scared of giving it a go."
The Group Training Organisation at the MTA are reporting the number of young people seeking school-based apprenticeships are on the rise, but the number of host employers accepting school-based apprentices are not currently meeting the demand.
The industry looks to you – the business owners – to open your doors to school-based apprentices should they come knocking, as this may be one of the only ways to secure new workers going forward.
---
To speak to someone from the MTA Training and Employment Centre about apprentice hiring options, call 8241 0522 or email careers@mtasant.com.au.