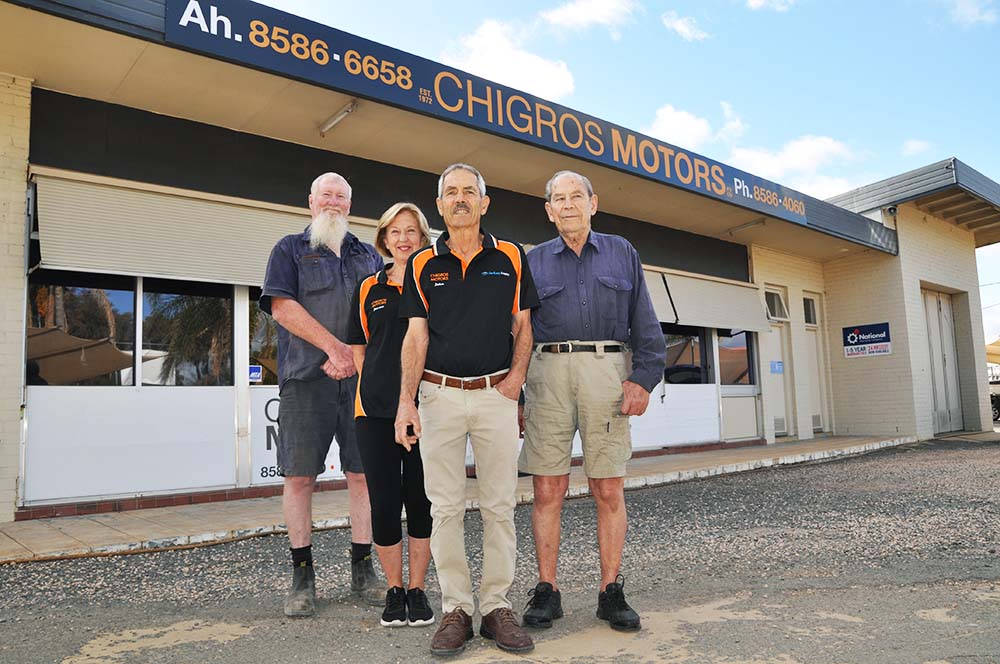 Photo courtesy of The Murray Pioneer, Renmark. Pictured left to right: Greg Roberts, Janice Chigros, John Chigros, and John's dad, Andy Chigros.
At the start of 2022, Chigros Motors – located on the Sturt Highway, Renmark – celebrated its 50th birthday. The business will join the growing list of 50 year MTA members in March next year.
Owner John Chigros has been there from the beginning, and has a vast collection of stories from his half a century spent at the business.
After completing his apprenticeship at the local Ford dealership, he and his father founded Chigros Motors in 1972.
"My father and I are motor mechanics by trade, and we thought we'd go on our own in a workshop," explained John.
"I'd already done the training in panel beating and painting as well, way back then we needed to do a bit of everything."
In recent times, Chigros Motors has felt the effects of the COVID-19 pandemic, which first slowed car sales, but has now seen many dealerships face a different problem.
"Cars dropped right off when COVID first hit, and then they started shooting up ever since, and we've just about run out of cars to sell. We've gone from about 80 cars down to 25 – that's what we have at the moment," he said.
But this wasn't John's first rodeo when it comes to dealing with an industry-wide crisis. With a finger firmly placed on the pulse of the used car market in the midst of the 1979 petrol crisis, Chigros Motors came out on top.
"They reckoned that we were going to run out of petrol. People went mad, mainly in the cities, selling their six cylinder and V8 cars," he said.
"I was buying the cars, which might have been six months old, with hardly any kilometres on them. I'd bring them back to Renmark, and the farmers and the blockies, they didn't care about running out of petrol, so they bought them.
"And then I'd buy four-cylinder cars from other dealers and take them back to Adelaide, and you could put them through the auctions, and make more than you bought them for."
John believes the secret to longevity in the automotive industry is down to two factors.
"You've got to be on the ball, mainly on the used car side… you had to be aware of what was going on, and get out in the marketplace to follow it along," he said.
"And, I think just having good motor cars and doing the right thing. We just get people coming to us when they want a car. That's paid off in the end."
John's wealth of experience in automotive is evidenced by the many anecdotes he is able to share, one of his favourites undoubtedly being his father's claim to fame.
"He actually worked on the Queen's car in 1954 when she came to Renmark," John explained.
"I was only six then and I was in hospital, she shook my hand, because I had my appendix out way back then.
"He was in a magazine, there was a photo of him repairing the car with a whole lot of detectives around him."
Continue reading for two more of John's favourite anecdotes.
The unlucky shopper
In the beginning when we had a wrecking yard as well, we were open Saturday mornings. We've got a six foot fence around the wrecking yard with German Shepherds to guard it.
On one Saturday I locked up and went home after I let the dogs loose.
I got a phone call – "there's a guy in the wrecking yard standing on the roof of one of your wrecks waving his arms around near the main highway".
People driving past on the highway could see him waving his hands, the dogs were trying to eat him.
I had to go back and tie up the dogs and get him out of there. I didn't know he was in the yard when I knocked off.
John ended the story with an, "oops".
The amphibious Datsun 1200
I build little racing dinghies as well, we do marine repairs and things like that. I'd built a new boat for racing, and thought I'd whizz down the river quickly to see where the leaks are after I'd just welded it up.
I said to the guys, "I'll be back in five minutes".
I backed the trailer in, put the hand brake on in my little 1981 Datsun 1200 Ute.
When I was in the boat I could hear creaking, just like you do in Jaws, that click, click, click, and I thought – that's starting to drift.
So I jumped out, jumped back in the ute, but by then it was too late.
Because it was a ute, it was floating, the tub wasn't filling up with water. Putting the brakes on and spinning the back wheels did nothing. So I just sat there up to my neck in water, I opened the door and the water whooshed in.
Luckily it was 45 degrees out.
We pulled it out, and towed it back to the workshop.
It's not a modern car, it's an old car, so in half an hour, we had it running again. The only thing that was packed up was the radiator.
I drained the water out, and everything's good as new. That ute's still going today.
The MTA congratulates Chigros Motors on 50 years, and looks forward to delivering a 50 year membership certificate early next year.