As soon as you walk into Stepney Auto Repairs, fourth year apprentice Joseph D'Angelo invites you in with a great attitude and you can see his passion for being an automotive mechanic straight away.
Looking around the workshop, there are quite a few rare cars in for tune-ups and repairs including Jaguars and Fords, among others. Joseph recently had the honour of working on one particular 1978 Ford XC Cobra, performing maintenance work on the classic vehicle.
"Working on this car is definitely the highlight of my apprenticeship. We get a lot of old cars come through here and although I like working on Japanese cars mostly, this one takes the top! Engines are my forte and I like rebuilding them and seeing how different engines work."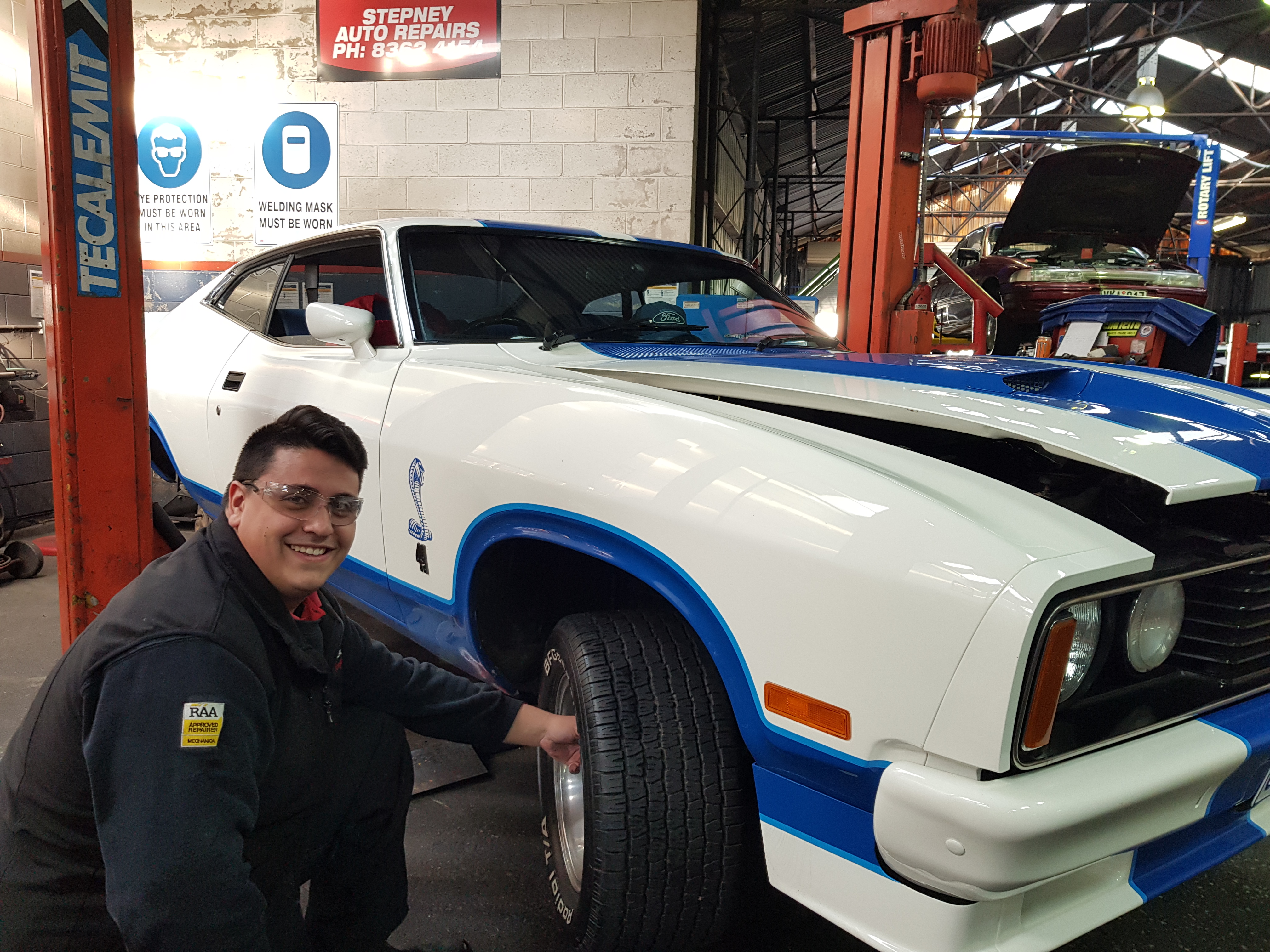 It isn't the only rare car he has worked on either. Joseph has also worked on a Ford GT XB.
Joseph applied for an automotive apprenticeship after hearing about what the MTA can offer through a friend who explained that the trainer quality with the combined work of the Field Officers were fantastic.
"I was the only one in my family who had a passion for cars. A lot of kids growing up around the trade become mechanics but I set out on my own to pursue this career. I applied in 2014 and after the initial training, I started my apprenticeship in February 2015. I had MTA Trainer Vince Salzone for my first 10 weeks and now have MTA Trainers John Politis, Steve Richardson and Dave Askew who all work together to make sure I am staying on top of my game."
Joseph is looking forward to graduating next year and is also looking to be dual qualified in another area saying, "It's important to keep learning in this trade and I'm looking forward to upskilling throughout my career. Getting an apprenticeship and training through the MTA just makes sense as they take care of everything for you."
Joseph also speaks highly of his Field Officer, Franco saying, "he goes through my record book and checks off what needs attention, payroll enquiries and ensures I have all the equipment I need to work safely."
If you are interested in taking on a MTA trained apprentice, contact the MTA's Group Training Organisation Manager Jason Polgreen by
clicking here
.