South Australia's new Training Advocate, Renee Hindmarsh, toured the MTA's Royal Park Training and Employment Centre last week.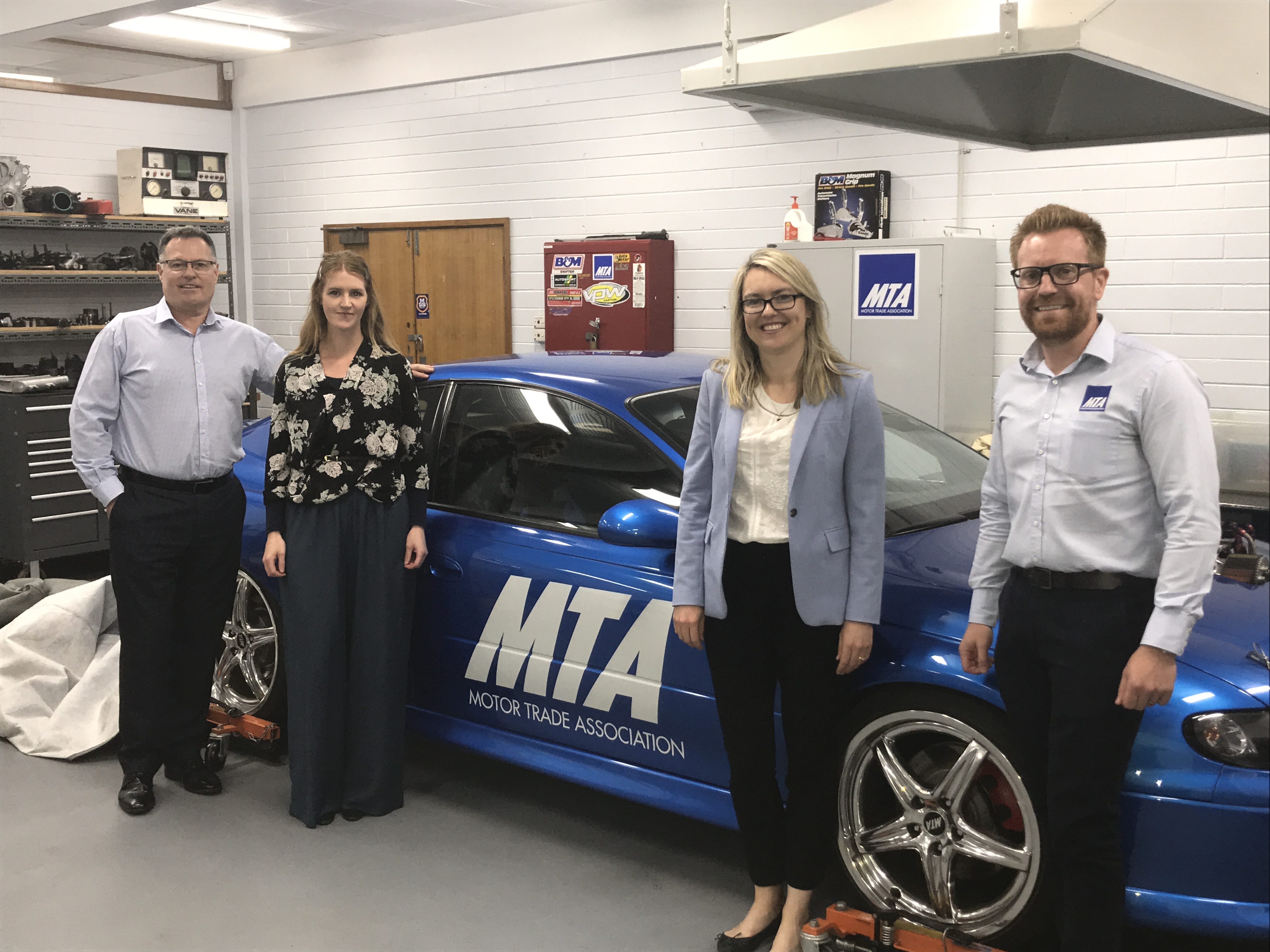 (L-R General Manager of the Training and Employment Centre, Tim Buckley, Office of the Training Advocate Advisor, Jessica Whitby, SA Training Advocate, Renee Hindmarsh and General Manager of Apprentice Employment Services, Jason Polgreen)
The SA Training Advocate plays a significant role in monitoring the training system in SA and advising the State Government on ways to improve it. Renee was appointed to the role of SA Training Advocate last year and is clearly passionate about South Australia meeting its future skills needs, a common goal shared with the MTA.

We sat down with Renee to learn more about how they can assist employers and apprentices.
How can we all improve skills training and employment opportunities to generate outcomes?
A big part of the Training Advocate's role is to provide independent advice to Government about skills policy formulation. It is great to hear from employers and training organisations about the training system in SA so we can ensure we have the best system possible and respond to any challenges.
What can the SA Training Advocate offer to apprentices, hosts and direct apprentice employers? What resources are available?

We can help anyone to find their way around the SA training system and offer a confidential advisory service to apprentices and employers to make informed decisions about their training needs, rights and obligations.
If apprentices need assistance, we can speak for and negotiate on their behalf to address a study issue with their Training Provider or employment issue.
We also provide support and guidance to businesses about employing an apprentice and can act as an independent mediator toward the early resolution of an issue or dispute.
We have lots of information on our website (www.trainingadvocate.sa.gov.au) including fact sheets and tips to get the best out of an apprenticeship.
There is currently a skills shortage in the automotive industry in SA. What are the biggest hurdles that automotive businesses must overcome to help fix this?
It is important that businesses are aware of the options available to them to access skilled staff, including apprentices and trainees, and are aware of any relevant programs or incentives that might be of assistance. If they have any questions, they can contact us. (Click here to contact the SA Training Advocate).
How can the MTA and the Training Advocate work together for the benefit of apprentices, businesses and industry?
Helping everyone to be able to access the right information and assistance with the aim to support all parties toward successful completion of the apprenticeship. We are also happy to look for opportunities to collaborate such as information sessions and promotional activities.
Lastly, how did you find the MTA's Training and Employment Centre at Royal Park?
The MTA had some very impressive facilities, thanks for showing us through!